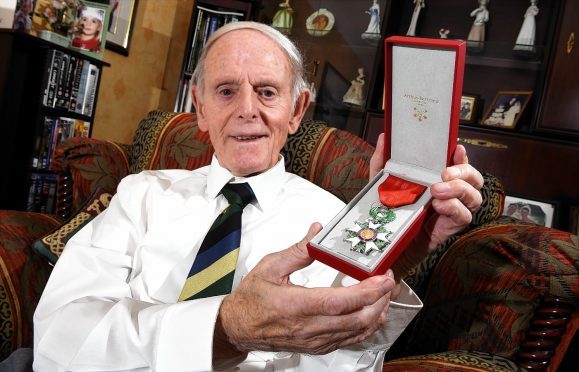 On June 6, 1944, the Allies launched the D-Day offensive against the Germans. Veteran Jim Glennie, who was shot and captured in the invasion, shares his memories with Stephen Walsh 75 years on.
He may have been just a teenager when his boots touched the Normandy sand, but 75 years on Jim Glennie still remembers the chaos surrounding him.
The Gordon Highlander, who was 18 when the D-Day invasion took place in June 1944, sits in his arm chair in his Aberdeen home, surrounded by photographs of his family and of himself at various military events in the decades since the war ended.
The 94-year-old vividly recalls stepping from the landing gear into the water as being the first moment he realised the potential horror he and the others were facing on shore.
"I remember looking down and seeing the body, and I knew I was in France," he said.
Turriff-born Mr Glennie signed up to go and fight alongside school friend Ronnie McIntosh.
The pair were posted with the 47 Highlanders, with Mr Glennie joining A Company.
After months of training in the north-east and England, they were stationed on a US Navy cargo vessel, known as a liberty ship, for about a fortnight.
The soldiers on the boat, who slept on the floor the entire time, had no idea what was waiting for them on the other side of the English Channel.
Mr Glennie did not know what day it was or even how deep the water would be when they landed.
He said: "I could swim but Ronnie and another boy Norrie couldn't, so I said I would help one of them to shore and then go back for the other.
"But when we landed, the water just came up to our knees.
"I put my foot on the sand and I looked down and the water came flooding into the craft, there was a dead body floating next to me.
"He must have been Canadian because he was wearing a darker kind of khaki, he looked a lot older.
---
>> Keep up to date with the latest news with The P&J newsletter
---
"You weren't allowed to stop, the sergeant told us 'don't stop, go straight on'."
Trying to keep their fear and adrenaline at bay, Mr Glennie and the other soldiers who had managed to avoid the German fire headed towards a field, and what they would soon realise would have been certain death.
"We ran towards the field and someone shouted 'hold it, mines' – it was covered in mines and we were ready to jump just over it.
"We then ran up this road, but I can't really remember much about that, but the excitement.
"You were scared within yourself, but you didn't show it. You just didn't know what you were getting yourself in for – it was very dodgy."
Just days after they made it off the beach after surviving the barrage of  gunfire and shelling, Mr Glennie and his company were ambushed by German soldiers.
The troops were making their way towards Caen when they came across an infamous Panzer tank regiment.
A number of soldiers were killed or wounded but Mr Glennie and some others managed to take refuge in a roadside trench.
He said: "The tank came past us and was just spraying us, but we managed to keep our heads down.
"I remember thinking 'I don't like this' and I jumped out and ran up the road to try and get them when they came round a bend."
Mr Glennie then animatedly mimed aiming and firing his gun at the tank, as he recounted what happened next.
"So I'm standing there like this, firing my gun, and all of a sudden I felt shots hit me in my right arm and the gun just dropped out of my hand," he said.
The soldiers were taken to a barn where they were kept overnight, along with other captured Allied servicemen.
Mr Glennie was then taken to a field hospital where he was cared for by a German doctor and a captured British medic.
After spending some time there he was then put in an ambulance and taken to a battalion headquarters, before he was transported to another hospital.
He said: "They put me in the loft with some other soldiers, I remember they brought this one boy in – I can't remember whether he was a pilot or tank regiment but he was totally burnt, his face was completely black, and they just left him there.
"I was taken to another ward which was all German soldiers, and just me, you can imagine what that was like.
"They called me Scottie, and once I got to know them they would offer me food and cigarettes.
"But there was an SS officer there too, and if he was around they would not speak to me."
After Mr Glennie was released from hospital, he was transferred by cattle train along with hundreds of others to camp Stalag IV-B, near Muhlberg, Germany.
His first day in the camp was his 19th birthday.
He spent several months there before being transported to Leipzig, where he was forced to work, filling bomb craters.
Eventually, in April 1945, as the Russian forces advanced towards Berlin, Mr Glennie's group returned to camp one day to find their German guards had "disappeared".
They were liberated by American forces a short time later.