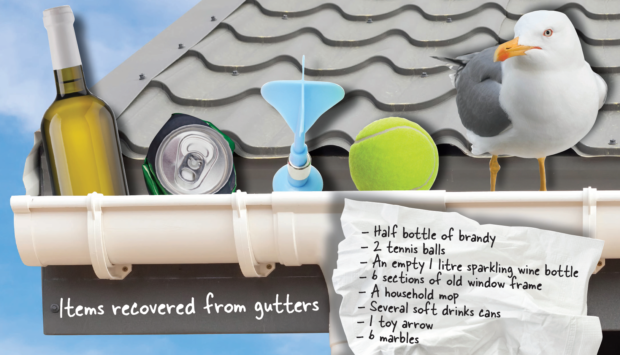 A half-empty bottle of brandy, a dismantled window frame, and an arrow were among the more unusual items discovered when the rooftops in a north-east town centre received a major spring clean.
Since Monday, about 1.2 tonnes of waste has been removed from Peterhead gutters as part of Rediscover Peterhead's clean-up project.
The scheme includes removal of green-growth and gutter repair work as well as the removal of eggs and nests from town centre roofs in an effort to tackle the town's gull nuisance problems.
Among the items found in the gutters by contractor GutterZ were a half bottle of brandy, two tennis balls, six sections of old window frame and a household mop.
They also found an empty litre bottle of sparkling wine, several soft drinks cans, a toy arrow and six marbles.
The company also recovered 35 slipped slates but handed them back to property owners to be used for future roof repairs.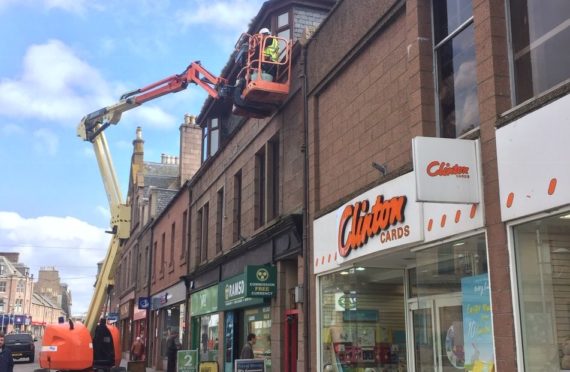 It is hoped the work will improve the overall aesthetics of properties and contribute to a more pleasant experience for visitors.
Urgent repairs and Advice on urgent repairs and improvement work that should be carried out have also been given to the owners of occupied premises.
BID chairman, John Pascoe said: "Civic pride is a theme Rediscover Peterhead is focusing on as a part of the five-year business plan.
"As with all large projects such as cleaning up a town centre, the works must be carried out in phases.
"The deep cleaning last year was very successful, and it is something that we feel the town should benefit from annually.
"The gutter repair work and removal of green growth will add to the overall cleanliness and tidiness of the town, which will be the start of on-going improvements that the town centre properties and businesses deserve."
Next up for the project will be a full-on assault on Peterhead's gull problems, with a gull cull returning for a second year.
---
>> Keep up to date with the latest news with The P&J newsletter
---
Last year, 541 nests and 1,168 eggs were removed to make the town cleaner and safer.
On April 28, Presly Pest Control will return to the town and begin a weekly removal that will continue until mid-July.
Mr Pascoe said: "Last year showed positive effects from the works carried out with less nuisance gulls in the town centre throughout late summer, especially during the seafood festival in September."
As part of this phase of the project, street cleaning will also begin in summer.
The overall scheme has been financed by the BID levy and supported by the Aberdeenshire Council Regeneration fund.