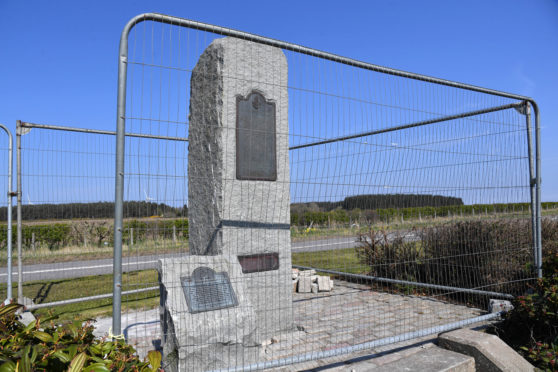 Work to repair a north-east war memorial have finally started, five weeks after the structure was knocked over in a crash.
Aberdeenshire Council has now re-erected the main granite pillar of the RAF Banff Strike Wing Memorial at Boyndie.
The council-owned stone dedication, at the side of the Banff to Portsoy road, was hit by a vehicle early in December.
For weeks, the granite block lay on its side among the poppy wreaths laid for Armistice Day, prompting fury among locals.
Now Aberdeenshire Council has confirmed it is hoped the work will be completed by May.
A spokesman said: "Works to repair the memorial are progressing well.
"The main stone has been re-erected and a replacement wreath holder is being produced.
"Once that has been created, we will be able to re-set the smaller stone, as well as repointing the cobbles and step.
"We expect all the work to be completed by the end of the month."
The memorial was erected almost 30 years ago in tribute to airmen based at Boyndie, near Banff, during the Second World War.
Established as a strike wing at RAF Banff in 1944, the six multinational squadrons were tasked with targeting supply ships off the Norwegian coast which were vital for the Nazi effort.
Les Taylor, one of the men who designed and built the memorial, wrote a book about the Strike Wing and its historic importance.
And, although he is happy the stone is now being repaired, he still has concerns on the structural integrity of the monument in relation to its original design.
---
>> Keep up to date with the latest news with The P&J newsletter
---
Mr Taylor said: "As it happens, I drove past the memorial last week on my way back from business in Elgin, and I stopped when I saw it was standing again.
"I'm very pleased that the issue has at last been addressed and that important details like the wreath holder will be replaced as well.
"My only concern is that it is not simply a question of getting the memorial to stand upright again, there are design features involving steel dowels to be considered and I only wanted to know if the council had incorporated these.
"The dowels (drilled into the base of the memorial and then sunk into concrete when the memorial was lowered into place) were designed to pin the memorial firmly down, and I wanted to be assured that this would be incorporated, and not simply have the memorial 'stood on its feet' and hope for the best.
"If the dowels have not been installed, anybody or anything could simply push the memorial over again."