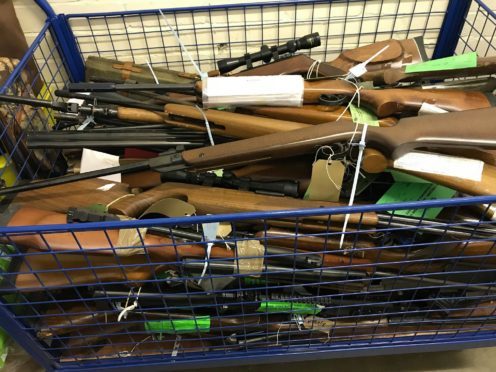 The north-east has been revealed as a hotbed of gun crime with one of the highest numbers of people caught with deadly weapons across the country.
Aberdeen and Aberdeenshire are behind only Glasgow when it comes to incidents involving the most lethal types of firearms, according to official statistics.
Excluding air weapons, there were a total of 153 incidents in Scotland over 2017-18.
There were 18 cases recorded in Aberdeen – more than Edinburgh, Dundee and Perth combined – while Aberdeenshire had 15 and there were 20 in Glasgow.
This compares to a total of eight offences in the Highlands and Moray.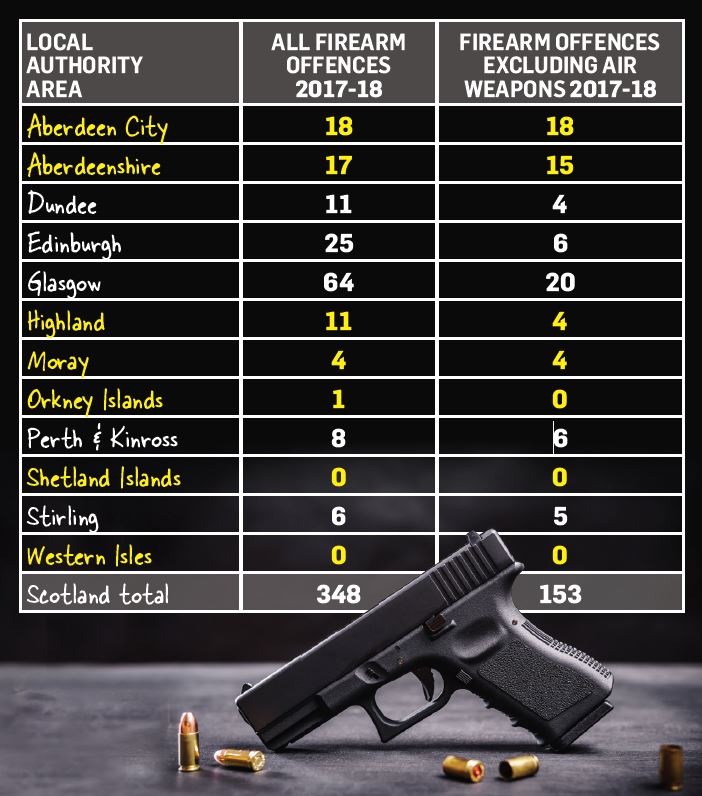 In addition, Aberdeen and Aberdeenshire have topped the list for the number of people caught buying or possessing air weapons without a valid certificate.
Thirty-three people were charged in Aberdeenshire over the 2017-18 period, compared to 30 in Aberdeen.
The new statistics released by the Scottish Government revealed there were a total of 348 firearm offences recorded in Scotland last year – a drop of 13% in two years.
Of these, 64 involved possession of a weapon to cause harm, while a gun was discharged or fired in 43 cases.
The Scottish Government said the number of firearm offences was at its lowest since records began in 1980.
And since introducing air weapon licensing laws at the end of 2016, the number of crimes involving the use of air guns as weapons has fallen by a third.
Liam Kerr, the Scottish Conservatives' shadow justice secretary, described the numbers as "alarming."
He said: "I am sure that many people will be surprised at the figures, which you would normally associate with larger urban areas.
"There has also been a surge in air weapons licensing offences, which suggests that people may not be in compliance with new laws that came into force at the beginning of 2017."
Justice Secretary Humza Yousaf said: "While firearms offences are rare, we know that just one such incident can have a devastating impact on victims and the wider community, so we are determined to continue working with our partners to reduce these numbers.
"Having successfully lobbied to have the relevant powers devolved to the Scottish Parliament, we are the only part of Great Britain to licence air weapons – ensuring that only those with a legitimate need have lawful access to them."
Firearms licensing inspector for the North East division, Grant McCutcheon, said: "The north-east has the second highest number of firearms licence holders in Scotland after the Highlands and Islands.
"This is due to a number of factors which includes large rural areas with sporting estates and farms."
He added that a firearms surrender campaign last summer took 474 weapons off the streets and added: "During 2017-18 we were more successful in locating unlicensed air weapons, and reporting those who possessed them."