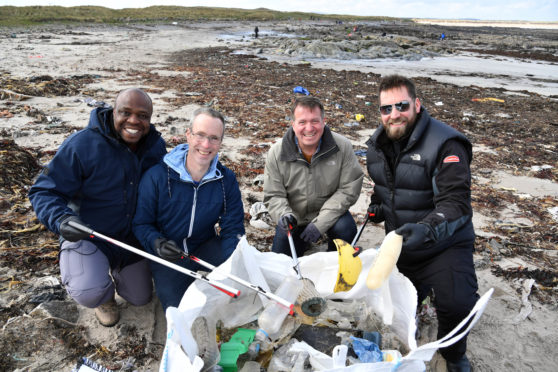 A 40-strong team of oil and gas workers ditched their desks and drills to spend a day tidying a litter-strewn north-east bay.
Cairnbulg Harbour was given a thorough spring clean yesterday by employees from Premier Oil, who were led into action by the East Grampian Coastal Partnership (EGCP).
The small stretch of otherwise picturesque stoney beach captures significant amounts of litter and refuse from the sea, some of it unwittingly lost overboard from vessels.
But plastic is also the bane of the bay – as it is for so many beaches – and significant amounts of bottles and other items wash up there.
The team carried out two sweeps of the beach, first collecting recyclables and then returning to pick up waste for landfill.
After just one hour – assisted by heavy lifting machinery from Fraserburgh Harbour and a council skip – they had collected three tonnes of recyclable materials alone.
---
>> Keep up to date with the latest news with The P&J newsletter
---
EGCP beach litter officer, Crawford Paris, said: "There's been a lot of plastic bottles picked-up, together with aluminium tin cans and a small amount of glass.
"In the second sweep we collected all of the non-recyclable waste. That's where we expect to find the heaviest stuff.
"It's quite an operation. This has been our first corporate clean-up and we would love for more companies to come forward."
Amidst the Premier team were staff members who usually carry out roles in human resources, well engineering and drilling, as well as project leaders.
Paul Williams, Premier Oil business unit manager, invited his team to become involved after speaking to a friend who is part of the EGCP.
He said he'd been inspired to make a difference.
"We were happy to help," Mr Williams said.
"Hopefully this will be just the start of our community support work. I would be disappointed if this is a one off.
"If we can make a difference to a community and help the people who live where we work then we will.
"It has been disappointing to see the material that's been found on the beach. It's mostly fishing debris or items that have been left by the public."
Along with a high number of recyclable plastic bottles, there were many gloves, overalls, nets, creel pods and a scooter found.
EGCP project manager Ian Hay was happy with the clean-up progress as Cairnbulg beach is included in the group's two-year plan.
He said: "This is the third time there's been a beach clean here.
"We took away 4.48 tonnes during the first and a further 2.5 tonnes in the second but this is still one of our most troublesome beaches.
"It's a sink site, which in a way is good for us as the rubbish is brought together here, but if we left it the waves would smash it up and it would end up back in the sea.
"It's otherwise a stunning coastal area and we encourage any group or individual to get involved and help us to make a difference."