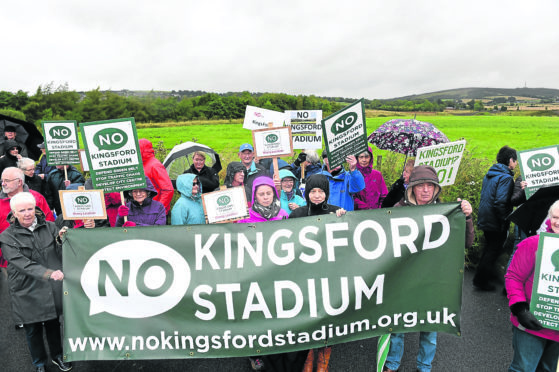 The main campaign group opposing Aberdeen FC's new stadium and training ground is taking step back over claims bosses face "relentless abuse".
No Kingsford Stadium had already announced efforts to rebrand as West Aberdeen Environmental Protection Association over time, to tackle other projects it deems unacceptable for the area.
But the move has now been brought forward "following months of relentless abuse".
The group took Aberdeen City Council to court over the decision to grant planning permission for the £50million stadium.
Their judicial review – funded by £66,000 in donations – was unsuccessful.
It has been claimed this week – not for the first time – abuse escalated to threats against the safety of group members.
Campaign bosses called police to report the tirade before deciding to end the group's activities early.
Officers will not be taking any action in light of the discussion, and say other people "with an interest" in the new ground have reported abuse too.
A spokeswoman for No Kingsford Stadium said: "Our directors have again spent time with police – dealing with further threats to their safety.
"The abuse and intimidation against our three directors over a planning application/difference of option is frankly difficult to understand.
"Each of them has done an amazing job and they took a stand both for the community and for what they personally believe in."
The No Kingsford Stadium campaign will soon close down its website and social media accounts.
West Aberdeen Environmental Protection Association will conduct more of its work behind closed doors, but will still have public pages.
NKS directors said its new organisation would remain committed to making sure planning conditions Aberdeen FC must meet before it can build its new 20,000-seater stadium are enforced.