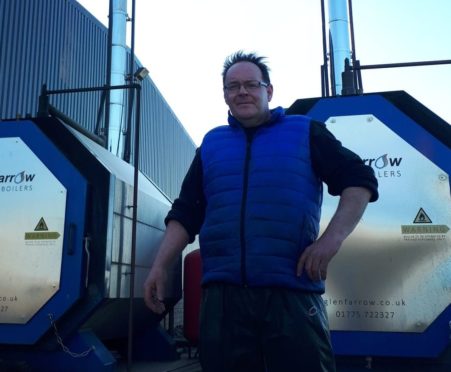 A north-east farmer has been ordered to rip out his biomass boilers after failing to get planning permission because of a family feud.
Turriff man, Neil Benzie, works on Meikle Whiterashes farm, owned by his parents Zander and Anne.
The family have been fighting to gain planning permission from Aberdeenshire Council for two years for biomass boilers installed in 2017 for £125,000, but the first two applications were refused due to neighbouring property amenity being affected.
Then, when all the other objectors dropped their protests, Mr Benzie's brother-in-law and associated family objected, leaving the council to order removal of the heaters.
Colin, Brian and Ron Grieve spoke out during the third planning consent bid.
Brian Grieve wrote: "As a neighbour of Meikle Whiterashes farm, Turriff I would like to make an objection to the biomass burners.
"I have huge concerns for the health and wellbeing of my young family growing up breathing in all the toxins produced by what is being burned in these two burners.
"The smell comes across into our home and lingers, it is absolutely disgusting.
"This has an effect on our quality of life. We are  not able to hang out the washing or open the windows in our home to let fresh air in."
But Mr Benzie said: "When they were first started up, there was a lot of smoke as we didn't know it had to be dry wood and they were still brand new.
"Now we've limited it a lot. We have now applied for permission three times – offering to put in a weather filter, so if the wind blows certain ways, the boiler will cut off so as not to have smoke going their way.
"That wind filter would cost £7,500, but still the permission was rejected as my brother-in-law and his family, who have actually been here helping stock it before, objected."
The boilers were installed when the farmhouse boiler broke in 2017 and the family chose to install two wood burning batch-fed biomass boilers to heat the house, the shed where potato pickers work seasonally and the potatoes to stop them from rotting.
Mr Benzie said: "We paid £3,500 to have an emissions test and have a 36-page certificate saying none of the smoke, which is actually mostly steam, has any toxins but the neighbours and council won't listen.
"They don't understand these biomass boilers, the council won't help at all.
"Biomass is clean heat but we're left in limbo because people don't understand it.
"It has cost us endless amounts of money and we've ended up with nothing."
A spokesman for Aberdeenshire Council confirmed the equipment was installed without prior permission and said: "A deadline of July 30 has now been set for the removal of the unauthorised equipment."