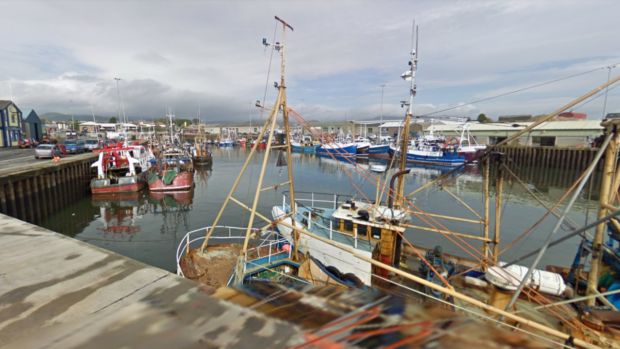 A north-east trawler skipper who died on board his vessel is believed to have suffered a heart attack before falling down stairs.
Emergency crews were called to the Fraserburgh-registered Artemis as it sat in Kilkeel harbour in Northern Ireland on Monday afternoon.
But 56-year-old Andrew Hay, from St Fergus, could not be saved.
He was a father-of-two and it is understood he was the skipper of the vessel.
His wife, Sandra, was too upset to speak about the tragedy yesterday.
A source said the boat was heading for the waters off Newlyn in Cornwall to fish for prawns when engine problems forced them to stop in Kilkeel.
The Marine Accident Investigation Branch have begun examining the boat as they try to piece together what happened on Monday.
Fraserburgh-based businessman George West is a director of the company which owns Artemis.
He said yesterday he did not want to comment on the circumstances surrounding the death while an investigation was taking place.
A fishing industry colleague said Mr Hay was good at his job and liked by those working in the sector across the region.
The man, who did want to be named, said: "This has come a very big shock to everybody.
"He was a topper of a guy who always enjoyed a laugh and was very well-liked in the north-east.
"He was also a very good and skilled skipper."
Miriam Kemp from the Fishermen's Mission in Fraserburgh said Mr Hay's death was "tragic" and that she was thinking about his loved ones, including his wife and children Andrew and Sherrie.
She said: "These are tragic circumstances and our thoughts go to his wife and family, who are devastated."
Fraserburgh councillor Brian Topping echoed those sentiments, saying: "Our thoughts and prayers go to family, friends and the crew of the boat.
"Fishing is a very dangerous job and it is during times like this that you realise that.
Trawlermen star and Scottish Seafood Association member Jimmy Buchan said Mr Hay's death was "heart-breaking" and that he too was thinking of everyone affected by the tragedy.
The Northern Ireland Ambulance Service said they had been called to the harbour on Monday, with a charity air ambulance also attending at the quayside.
Despite assessment and initial treatment, a spokesman confirmed Mr Hay had been pronounced dead at the scene.
A Marine Accident Investigation Branch spokesman said inquiries were at an early stage.
"We have sent two investigators to Kilkeel, Northern Ireland, to investigate an accident involving the death of a crewman on the fishing vessel Artemis while alongside in port," he said.
Kilkeel is a small town in County Down. Its port is home to the largest fishing fleet in Northern Ireland.