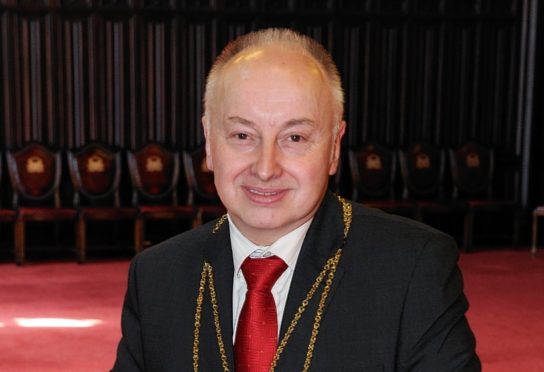 Aberdeen council bosses will commission an artist to paint a portrait of a former city lord provost.
The £10,000 commission has been launched for artists born, trained or working in either Grampian or Tayside to paint George Adam, who served in Aberdeen from 2012 to 2017.
Under the long standing convention, going back hundreds of years, every holder of the prestigious role has a portrait painted after leaving office.
But concerns have been raised about the spiralling cost – which has doubled from £5,000 – and the use of the cash in times of cutbacks.
The local authority made more than £40million of cuts and savings in its budget earlier this year.
The money will come from the council's historic Common Good Fund.
A city council spokesman said: "The council is seeking to appoint an artist to create a portrait of former Lord Provost of Aberdeen George Adam as part of a long tradition of provostal portraits in the city, which stretch back hundreds of years.
"Submissions for the commission were invited from practicing artists born, trained or working in the Grampian and Tayside region. The deadline for submissions was midnight on Sunday (28 April).
"The selection of the commissioned artist will sit solely with the previous Lord Provost. Advice will be provided by the council's museums and gallery staff.
"The budget for the provostal portrait is limited to £10,000 from the Common Good Fund."
Opposition Liberal Democrat group leader Ian Yuill said: "I do wonder whether it would not be better to get a photographic portrait for former lord provosts these days.
"It would continue the tradition of provost portraits in a much more affordable way."
Lord Provost Barney Crockett added: "I think it would be really sad to send out a message that we are so pathetically poor that we can't afford to keep up a centuries-old tradition.
"We are always looking for new ways of doing things but with the town house opening up to more visitors and tourism being a priority, I think this is one convention that needs to be maintained."