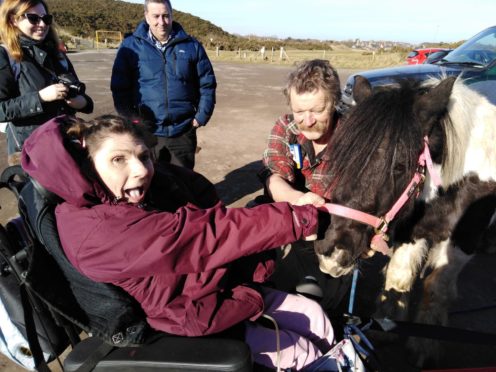 Kerry McLaren has always loved the sea and sounds of the beach.
But, as somebody with cerebral palsy, who uses a wheelchair and is limited in her ability to communicate verbally, visits to the shore have always proved difficult.
However, the 47-year-old long-term resident at Sue Ryder Dee View Court in Aberdeen has just enjoyed a trip to the beach at Newburgh on the Ythan estuary.
And it was all thanks to a company called Pony Axe S and a majestic equine beast called Obama.
The firm takes people who use wheelchairs to all the places where wheelchairs can't usually go. And Ms McLaren was one of the beneficiaries of a special arrangement where the chairs are put in a specially adapted chariot which is pulled along by a horse who can access many places, normally off limits, very safely.
Due to her condition, she hadn't enjoyed the sand, seashells and smack of the ocean in a very long time, but that only made the experience all the sweeter.
Cara Cameron, who works at Dee View Court, said: "Although Kerry is non-verbal, she's very expressive and a very joyful person, she can actually make the sounds of joy, in squeals of delight and happiness.
"The day was amazing for Kerry, she loves animals and so she really enjoyed getting to know Obama.
"Kerry was then placed in the 'chariot' and off she went along the beach and her smile was infectious.
"She got to meet plenty of dog walkers with their pets and there were lots of seals on the beach she could get close to, and once again, that was something she had never experienced.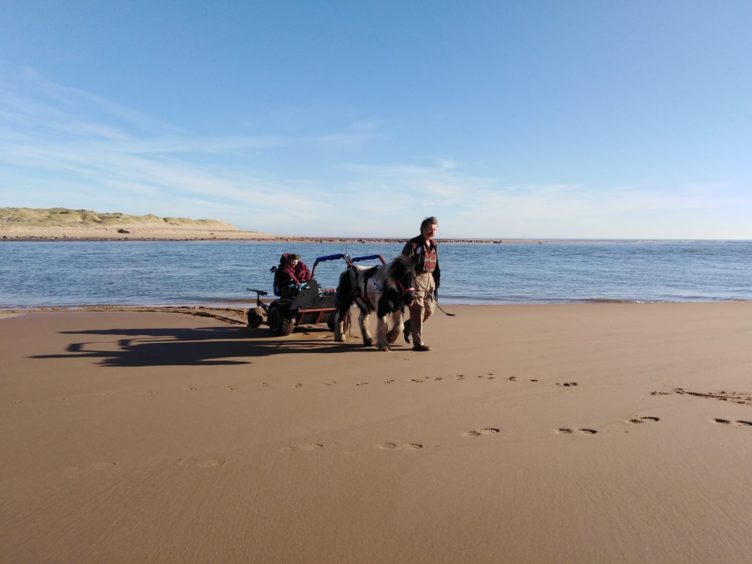 "At one point, Simon, who drives the chariot, took them through some shallow water and, as it splashed up around them, I thought Kerry would explode with delight – she loved every single moment.
"Taking people with serious neurological conditions to places they normally cannot access is so good for their mental and spiritual wellbeing.
"For Kerry, it didn't just last while she was on the beach, her mood was elevated for days afterwards."
Valerie Maxwell, the Aberdeen centre's director, is among those who have championed such initiatives at Scotland's only purpose-built neurological complex.
She said: "Not only do we provide specialist neurological care, rehabilitation and support tailored to the individual needs of people with a range of neurological conditions, it's the additional things like this that are so valuable to their individual needs.
"A trip to the beach might seem a fairly simple thing for many people, but for our residents, it is something that they might not have experienced for years."
Dee View Court launched a £3.9million capital appeal nearly two years ago. It has thus far raised nearly £3m of that target.