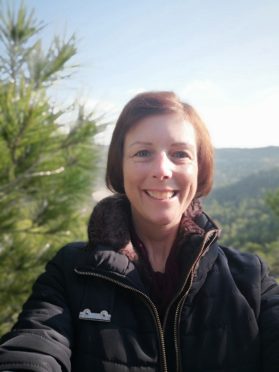 A north-east woman is searching for other people with stage four cancer to create a book for those diagnosed with incurable disease.
Catherine Steele from Cornhill was diagnosed with breast cancer in 2014 and initially received the all-clear after treatment.
However, while making plans to move to Spain, her illness returned in 2016 and Mrs Steele was diagnosed with stage four cancer which had metastasized to her sternum.
Now, after coming to terms with her cancer and following an operation to replace her sternum with a titanium plate, she is determined to write a book to help others who are given a terminal diagnosis.
The 46-year-old said: "When it was stage one, my thoughts were really just to get treatment done and move on. There was a lot of support.
"But for stage four, it was very different, it was like my life had ended and all of my future plans were destroyed – I didn't see a point in anything for a long time.
"There wasn't much support out there. With stage four, I felt isolated and alone.
"It has taken me a long time to have the enjoyment back in my life, be confident enough to plan things and build up a future.
"I feel that because there's not that much support I want to pass on my learning and experiences to others newly diagnosed with incurable cancer or struggling to cope.
"With breast cancer in particular, up to 30% of people who have it will later be diagnosed with stage four, so it feels you're being cheated when you get that diagnosis.
"I'm writing a book at the moment – it's intended to be an idiots' guide for advanced cancer as we all go through the same emotions – loss, anger, sadness and fear."
However, in order to write the book and appeal to a wide range of people, Mrs Steele is appealing for others with stage four cancer to tell her their story – particularly those with grown-up children, so she can explore how cancer impacts relationships.
She said: "I'm only going from experience and, although I've got that to go on, I want to make sure I am covering all emotions because I didn't feel angry but I know others do, so I am hoping to interview 100 people.
"I also have twins who were five when I was first diagnosed and seven when I was told it was stage four. There will be advice in my book on how to deal with young children, so I want to explore all relationships."
If you can help Mrs Steele with her book, email catherine@catherinesteele.com or visit her facebook page Life Beats Cancer.