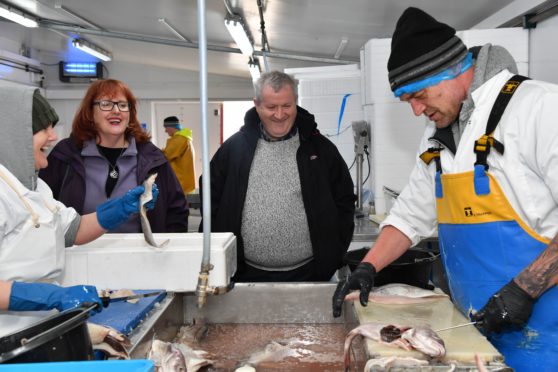 The leader of the SNP in Westminster was given a tour round fishing businesses in the Buchan area yesterday.
Ian Blackford and SNP environment spokeswoman Deidre Brock spent the first part of their morning at the fish market in Fraserburgh before having breakfast on board the pelagic vessel TAITS FR229.
They also visited various seafood processors and net manufacturers in Peterhead and Fraserburgh.
Mr Blackford believed their trip highlighted the importance of the industry to the area.
He said: "For every fisherman at sea, there are dozens more working onshore, in processing, wholesale, retail and in a range of occupations supplying the needs of vessels, such as maintenance and repair, or chandlery.
"Fishing is at the heart of Scotland's coastal communities and the SNP remains committed to maximising the opportunities for the industry to prosper and develop."
Ms Brock added: "It's been very beneficial to meet with local stakeholders from across the catching, processing and other fishing-related sectors.
"A great deal of the fish and seafood landed in the north-east is destined for European and global markets, so maintaining access to key export markets in these uncertain times will be vitally important to the continued success of these businesses and the sustainability of communities like Fraserburgh and Peterhead."