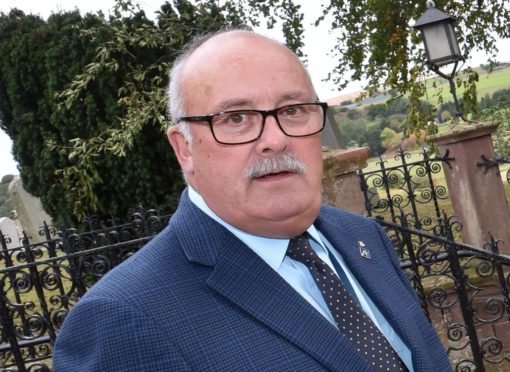 A man who survived a heart attack after falling ill on a ship has called for volunteers to come forward to be trained as first responders.
Alastair Forsyth was working on board the Sapphire dive vessel while it was docked in Aberdeen when he started feeling unwell.
Community first responders were the first to reach the scene and kept him stabilised until paramedics arrived.
Now the Turriff and district councillor is backing plans to set up a group of first responders in the town.
In a bid to tackle concerning 999 response times in the area, the Scottish Ambulance Service held a meeting at the end of April in the hope of attracting local residents keen to start up a group.
But only a handful of locals attended the meeting. It was held in the wake of "dire" performance figures published by the SAS last year.
The data revealed some patients were left waiting more than three times the national target response time of eight minutes.
The average time for a paramedic crew to arrive for a Turriff-based incident was 18 minutes – and in the worst cases it was half an hour.
To help ease pressures on the emergency services, it was hoped that a new Turriff first responders team would be set up but the turnout was disappointing.
The aim of community first responders is to reach a life-threatening emergency in the vital minutes before an ambulance crew arrives.
Mr Forsyth urged people to come forward as he recalled how first aiders helped when he fell ill ill while working as a supervisor technician offshore on July 10, 2010.
He said: "I had been on the day before and had done all of the checks. The next morning I woke up and knew something was wrong.
"There was dreadful pain in my chest. We called the medic and they got me out quick.
"It was the first responders who met us as they got me off of the ship and they confirmed I was having a heart attack and helped to stabilise me.
"The rescue teams had set off not long after from ARI and took over.
"Within the hour I had a stint in my heart and I can't praise them all enough. They're fantastic people who save lives and I appreciate what they did for me.
"I'm shouting from the roof tops about them and I think having a team in Turriff could make a real difference.
"Turriff needs a team so others in medical emergencies can get help like I had and then there will be less pressure on paramedic teams as people will be in safe hands.
"I urge people interested in becoming a first responder to get in touch."
Community resilience team leader Ricky Laird was disappointed with the turnout at the meeting but is still hopeful a group can be set up.
He said another information session could be held again in the future if there is enough demand.