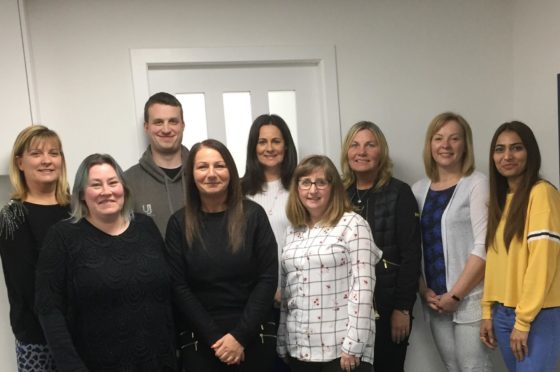 Fraserburgh businesses are uniting to build community spirit in the town following the decision to scrap Super Saturday events.
It was announced last week that Aberdeenshire Council would axe funding for the Fraserburgh Development Trust, the group responsible for running the fun days six times a year.
The events were launched in 2013 by a group of independent retailers to help improve footfall in the town.
Now business owners have again stepped up to help boost positivity and are launching competitions along with special offers.
The new Broch Businesses Together group was set up last month to help boost the town's fortunes.
Ainsley Dyga, who runs a newsagent on Broad Street with her husband Ian, said: "The Broch Businesses Together committee has had a really encouraging meeting.
"The window competition which Super Saturday started for this Saturday is still going ahead but to give people a better chance we have extended it to finish at 4pm on the 18th of May.
"We're continuing with offers too. We will also be holding different themed weekends to tie in with events already in place.
"Like our June Broch music bonanza – the businesses across the town will have their windows decorated and there will be a music hunt from June 1 to June 8 where folk have to find the name of a band or instrument inside the business.
"That's to tie in with several things happening over the two weekends – the lifeboat open day on June 1 and vintage rally June 2, then Rockin' the Broch on June 8 and the West Church evening of music on June 9."
The group aims to hold the events to help attract more visitors to the area.
Mrs Dyga said: "Understandably, we as businesses cannot take on what Super Saturday did but what we will be doing is working closely with other groups in the town and promoting Fraserburgh.
"We're promoting #FraserburghFinest on Facebook to show the world how wonderful Fraserburgh is and all the positive things."
Councillors from the area have praised the group for coming together after it was announced that Super Saturdays would be cancelled. The fun days brought jam packed programmes of events along with food, drink and craft stalls.
Brian Topping said: "If we've all the local businesses singing the same song and promoting each other then they're going something great. I very much encourage them banding together – it's fantastic."
Charles Buchan added: "I really was disappointed Super Saturday has stopped but it's now about keeping the community spirit of it alive and I think what they're doing here will refresh the town."
Competition forms can be printed from the Positive Brocher's community Facebook page and handed into Kool Kids or R&S Dygas. Entry forms for the music hunt will be released shortly.