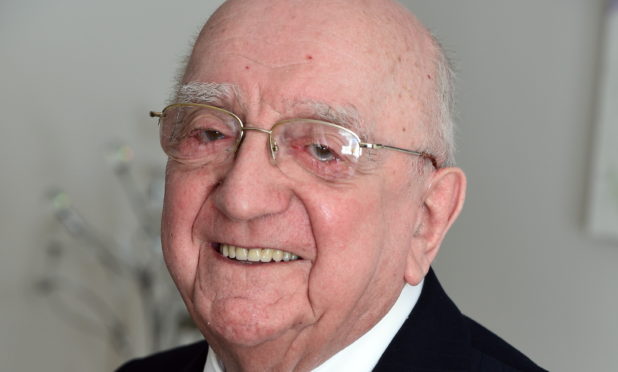 One of the north-east's last World War II veterans has been given a touching Gordon Highlanders send-off following his death at the age of 98.
John Johnstone stormed the beaches at Normandy on his 24th birthday, after joining the legendary Scottish regiment and being given the job of driving General DAH Graham's staff car.
On D-Day, he was tasked with waterproofing the vehicle so that his superior could drive it on to the beach from the landing boats.
He later travelled through France and Belgium towards Arnhem, where he recalled seeing paratroopers "turning the sky black" as they landed in an operation which was later chronicled in in the book and film, A Bridge Too Far.
But the humble Dyce man never regarded himself as a hero and spoke only about his  many friends and colleagues who never came home from the conflict.
He remained modest about his wartime achievements even when he was awarded with France's highest medal of honour, the Legion d'Honneurhe, in 2016 for his role in the landings.
Mr Johnstone chose to receive the award at his local kirk after being told he had just missed an official ceremony at Aberdeen's town house.
He was born in Inverurie on June 6, 1920, and attended Market Place school and then Inverurie Academy before starting a plumbing apprenticeship at James Laing and Sons.
But his foray into work was abruptly curtailed when the hostilities commenced and he was called up to serve his country in 1939.
Following D-Day he was sent to Oslo, where he took over deposed Nazi occupation leader Vidkun Quisling's mansion, Gimle.
He witnessed the liberation of Norway and notably drove a car containing King Haakon and Crown Prince Olaf along with General Graham.
Mr Johnstone was demobbed in August 1946, and returned to Inverurie to finish off his plumbing apprenticeship.
He then began working at the Water Board, eventually being promoted to a superintendent until retiring in 1985.
He was a pivotal figure in many community events and met his second wife Rosalind in Dyce.
The couple launched weekly coffee mornings in the church hall which still continue.
Minister, Manson Merchant, described the senior elder at Dyce Parish Church as "a man with a deep faith, a gracious man who was humble, kind and considerate".
Mr Merchant added: "He had a wonderful zest for life, a tremendous sense of humour and a smile to match it. He was a true gentleman."
Mr Johnstone died at his home in Dyce and his funeral took place on Monday.
He received a formal Gordon Highlanders' send-off, with the regimental flag draped over his coffin and his Glengarry bonnet and badge placed on top.
He is survived by his wife, their shared five children, nine grandchildren and four great-grandchildren.