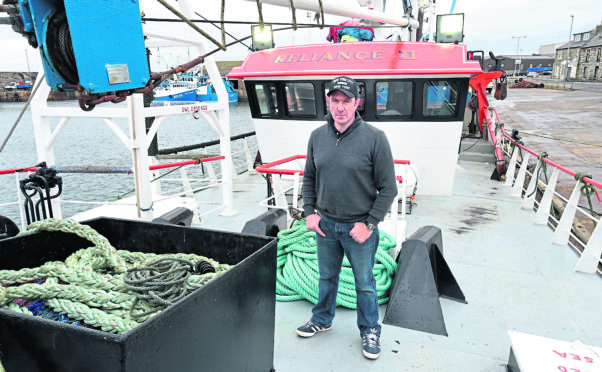 Fishing chiefs hope new regulations will give a north-east harbour another major boost.
Marine Scotland have relaxed the rules at Macduff, meaning trawlers can give just four hours' notice of their intention to land their catch instead of the usual 24 hours.
Boats can also land more fish, with the limits moving from one tonne to two tonnes or more of any species.
Macduff Harbour is not a designated landing port, but the changes have been made in recognition of its provision of infrastructure support for the fishing fleet.
Any vessels landing in the council-run harbour will have to give prior notification of their intention to land. Skippers will be able to use its maintenance facilities.
Reliance II skipper John Clark has welcomed the change and said it brings the Moray Firth port in line with other harbours.
He said the move can only be a positive step for those working out of the town.
Mr Clark said: "It is a major boost as previously we could not land over one tonne of cod into Macduff as it was not classified as a designated landing port.
"Then, after the cod recovery plan ended, Marine Scotland relaxed the landing rules but you still had to give them 24 hours prior notice to land fish in Macduff.
"Now Marine Scotland has made landing at Macduff the very same as every other harbour, with just the usual four hours' notice."
Councillor Ross Cassie, chairman of the Macduff Harbour Advisory Committee, said the change has been important because it has allowed other projects like a brand new ice plant to move forward.
He said: "Our harbour master Duncan Mackie is the man behind it and it has made a huge difference.  It is also one of the reasons we secured the funding for the chill unit.
"Everything at Macduff harbour is going in the right direction."
The move comes as work on a brand new ice plant at Macduff Harbour continues.
It is hoped the £400,000 quayside development will help boost the port's fortunes as fishermen will not have to travel to Fraserburgh for ice.
It was made possible after the council secured £376,000 in funding from the European and Maritime Fisheries Fund (EMFF).
Aberdeenshire Council is also currently recruiting for weekend night watch staff for Macduff Harbour.
Safety fears were raised over a lack of cover on Saturdays and Sundays after two boats broke free from their moorings in January.
The local authority decided to introduce a weekend service and at a meeting in March local fishermen agreed to find the £27,000 to pay for the quayside cover.
A one-off payment will come from harbour users so the watchman can be introduced.
A Scottish Government spokesperson said:
"Marine Scotland has worked closely with Macduff Harbour and Aberdeenshire Council on this matter to ensure that best practice and compliance will continue.
"The amendment will benefit all parties, including fishermen, onshore businesses and Marine Scotland, with vessels that are operating in local waters being given a greater degree of flexibility, particularly in ever-changeable situations at sea, to land their catch into Macduff at less than 24 hours' notice."