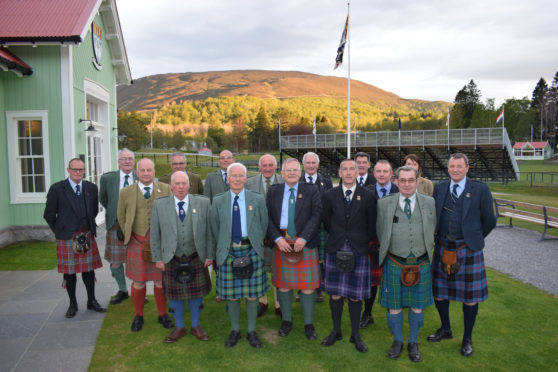 The Braemar Royal Highland Society marched through the village this weekend to ceremonially mark a move into new headquarters.
For the last 60 years, the charity behind the Braemar Gathering has been based in a former taxidermist's shop.
Now, however, the society has moved into a new office in The Duke of Rothesay Highland Games Pavilion, which was unveiled by the Queen last year.
The £2.5 million heritage centre was named after Prince Charles in tribute to his bond with the area.
Its meeting rooms overlook the Princess Royal and Duke of Fife Memorial Park where the games are held on the first Saturday of each September.
The march from old home to new coincided with the society's AGM.
The gathering is regularly attended by the Queen and members of the Royal Family while holidaying at nearby Balmoral Castle.
Her Majesty still remains its chieftain, with the games having enjoyed royal connections for the last 170 years.
Known as the Hut, the organisation's old home also served as HQ for the Braemar Home Guard during the war and for Braemar Army Cadets and Pipe Band thereafter.
Since 1959 it housed the society's vast collection of regalia from its 200-year history.
That collection has also found a new home in the village's Highland Games Centre.