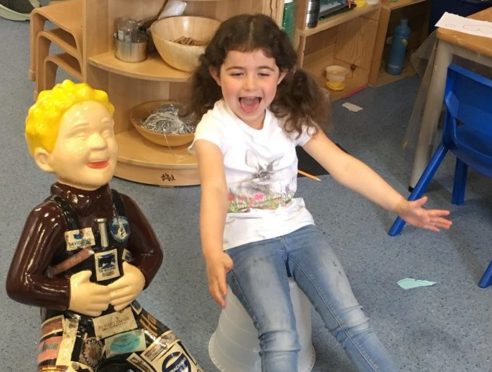 A Peterhead nursery group has decorated a special Oor Wullie for charity and plastered it with logos of the town's businesses.
One of the Oor Wullie sculptures for the 2019 Big Bucket Trail has been designed and painted by Peterhead Central Nursery.
The 25 children and seven staff members involved in the nursery embraced the project and decided to make their statue a "Blue Toon Loon".
The school's head teacher Paula Musson applied for the school to get a statue to showcase their vibrant and multicultural role in the Peterhead community.
As the only school in Peterhead chosen to decorate an iconic Wullie, they painted his shirt maroon to match their uniform, put their emblem on his bucket and painted the base to reflect the area's rich fishing heritage.
But, for his dungarees, the pupils had other ideas.
Lead practitioner at the nursery Liz Duffy said: "We decided to show how much we appreciate our local businesses, who make up so much of our community.
"Staff and children went round as many businesses as they could, personally asking them if they'd like to be involved.
"Everyone we spoke to was more than happy to be part of such a fantastic project, and we used their logos on the statue.
"Wullie has had his final coat of lacquer and has been transported to the Royal Aberdeen Children's Hospital where the decision will be made as to where exactly he will appear on the trail."
The Big Bucket Trail raises awareness and vital funds for Scotland's children's hospital charities.
Mrs Duffy added: "We are all so excited to see where he ends up and welcome him back to our setting when the trail finishes as a visual reminder of how much our community means to us."