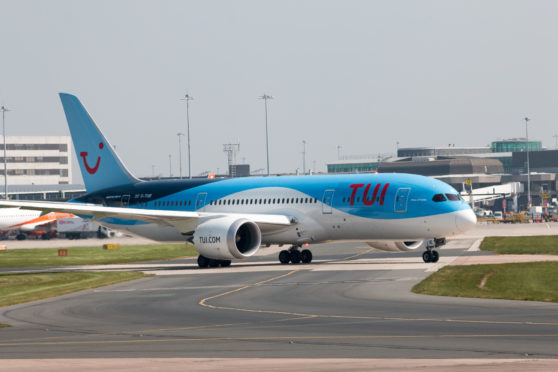 Holidaymakers were forced to spend the night in a Spanish airport after their flight back to the north-east was delayed, cancelled and then diverted to Newcastle.
Hundreds of people put on buses and taxis back to Aberdeen following the nine-hour delay at Palma de Mallorca Airport on Saturday night.
Last night, they slammed Tui for poor customer care and a lack of communication and said it was a "horrible" ending to breaks.
The travel firm apologised and said the delays were due to "operational disruption".
Caroline McKay was one of those who arrived at the airport in time for the 7.45pm flight back to Aberdeen, only to discover when she was checking in it had been delayed until 1.55am.
With no Tui representatives around, and the company's website constantly changing the flight's status from delayed to cancelled, and then stating it would land in Newcastle, passengers quickly grew frustrated.
Mrs McKay said: "When the groundforce staff arrived around midnight, they were horrified Tui had left us like that and were sending us to Newcastle instead.
"Our new departure time was 4am, so our gift cards were credited an extra €20 (£17) to get any essentials, but by this point, all the shops were shut, so we were eventually given a few opened bottles of water and blankets for the kids.
After a 6 hour wait we've been told we're being flown to Newcastle and being bused to Aberdeen, a 6 hour drive with 2 young kids! Beyond ridiculous! You have given us an extra €20 to spend but all shops are shut! @TUIUK @TUIGroup u claim to be a family company! Absolute joke!

— Caroline McKay (@cazzmck) May 25, 2019
"The flight didn't take off until 4.40am local time (3.40am GMT), but all the paperwork from Tui said we had departed at 2.00am GMT."
As they arrived in Newcastle, the captain told the 200 passengers that buses would be waiting to drive them to Aberdeen – but only one appeared.
Mrs McKay, from Dundee, was put on a 16-seater mini bus.
She said: "None of the buses had toilets despite being filled with young kids.
"It was a horrible end to an amazing holiday. We felt very let down by the Tui team at the airport."
Colin MacLaren, from Aberdeen, was travelling with his wife and waited two hours in Newcastle before staff arranged a taxi to drive remaining passengers to Aberdeen.
He said:"It's a debacle – we've had to deal with poor communication, then almost no communication and then missing information.
@TUIUK what is happening with the tom1665 palma to Aberdeen flight? Further delays and no tui staff to be seen…

— Donna Cowie (@cowiebop) May 25, 2019
"It's been very poor customer care from Tui.
"This is the second time I've had to deal with them and the lack of communication has been a big problem – they need pulled up on it. It just isn't good enough.
"We're frustrated with the lack of communication and the fact that the communication we did get was false promises."
This is not the first time the Palma to Aberdeen service, run by Tui, has faced customer complaints.
Last June, passengers on the same flight faced 31-hour delays.
Woman describes 'ridiculous' treatment at the hands of holiday company after flight delayed by 31 hours
Last night, a spokeswoman from Tui confirmed that all passengers received transfers back from Newcastle to Aberdeen.
She said: "We apologise to customers on board flight TOM1665 from Palma to Aberdeen, which was diverted to Newcastle as a result of operational disruption.
"Customers were given welfare and assistance by our teams both in the resort and in the UK.
"We understand that delays are frustrating for customers and we would like to apologise for the inconvenience and thank them for their patience."