North-east piper pens tune in support of bringing charity air ambulance to Aberdeen
By
Stephen Walsh
May 31, 2019, 8:23 am
Updated: May 31, 2019, 2:01 pm
A north-east piper has penned a soaring tune to muster support for a new air ambulance for Aberdeen.
Scotland's Charity Air Ambulance committed to making the Granite City its base for a second helicopter last November – after a campaign supported by The Press and Journal.
The charity-funded emergency air ambulance service has been scrambled more than 2,070 times since launching in 2013.
This year alone, its dedicated crew – based at Perth Airport – has responded to hundreds of emergencies all over the country.
Now Robert Gordon College's piping instructor has composed a tune, Angels of the Glens, in tribute to SCAA's lifesaving work.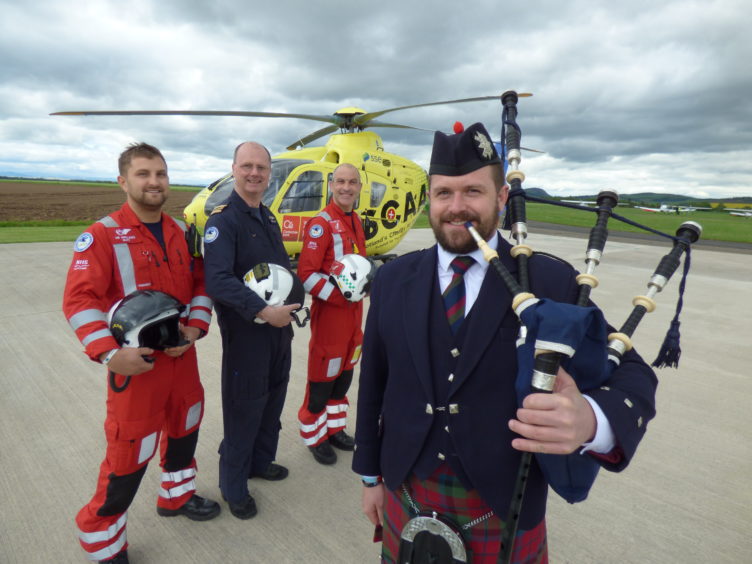 Ross McNaughton, who served as an NCO in the Black Watch regiment, said: "I've seen first-hand the life-saving role of helicopters in my military and offshore careers.
"I know how the precious minutes gained by helicopter transfer and expert paramedic care can make the difference between life and death when time is running out.
"I've been a big supporter of SCAA since the service launched in 2013 and I wanted to do something special for them – something using my skills to honour their's.
"SCAA does an amazing job in Scotland and I just wanted to show them my appreciation in the best way I could."
The song was premiered at SCAA headquarters on the charity's sixth birthday to an enthusiastic audience which included Scotland's Lord High Commissioner, the Duke of Buccleuch.
The duke immediately requested a copy of the composition as an important addition to his personal musical archive.
Mr McNaughton, from Pitlochry, has been piping since he was six-years-old and is currently pipe major with the Vale of Atholl Grade 4 development Pipe Band and piper with The Atholl Highlanders.
The 40-year-old said he was "immensely proud" of the tune, composed with SCAA in mind.
"A march is a rallying call to supporters to fall in and follow and I hope people will get behind SCAA as it continues to help those most in need," he said.
"SCAA brings life-saving support to some of the most remote parts of Scotland and if you're lying ill or injured in one of our inaccessible glens then a team such as SCAA appears, literally, like Angels of the Glens."
John Bullough, the charity's chairman, said SCAA was delighted at the "incredibly thoughtful gift".
"Ross has been a supporter of SCAA since day one and he proudly wears a black SCAA wristband in recognition of donating over £1,000 of his own money to the charity in our first year," he said.