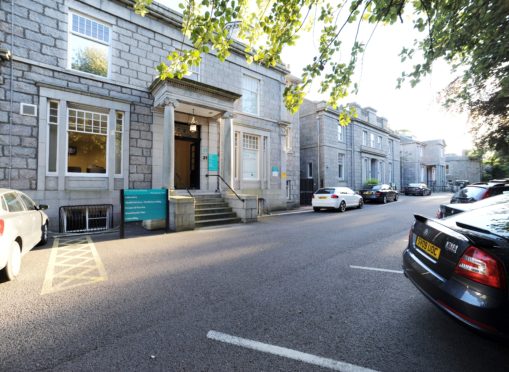 A senior north-east nurse has been struck off after her bullying of colleagues at a private Aberdeen hospital led to concerns she may have compromised safety.
The Nursing and Midwifery Council (NMC) found that Hazel Dinnie created such a toxic atmosphere that staff at Albyn Hospital were too afraid to raise concerns.
A hearing into the conduct of the former hospital director of nursing found she had shouted and swore at colleagues and hindered senior management in carrying out their jobs.
It also found that colleagues gave serious consideration to leaving their posts, prior to her relocation to another BMI hospital.
An 85-page document just released in the wake of evidence gathering in March and May of this year lays bare a catalogue of failings.
The NMC found that care at the top hospital may have been compromised as colleagues were terrified of bringing forward concerns.
Ms Dinnie first became a registered nurse in 2005 and started work at the west end hospital in 2014 as a theatre manager, before being promoted to director of nursing the next year.
But while in the top post it was found that the nurse regularly shouted at staff – once berating a colleague for merely spelling her name with a lower case 'h'.
---
>> Keep up to date with the latest news with The P&J newsletter
---
She also accused colleagues of secret meetings,was "short" in responding to questions and behaved aggressively towards external trainers.
Furthermore, she was found to have not "encouraged a culture" of reporting incidents and was also said to have hindered heads of department.
She was seconded to the private Highfield hospital in Manchester in August, 2016 before formal grievances were raised in December before being dismissed from the BMI firm in May 2017.
Mitigating factors were presented as there was no evidence of actual patient harm and there were a number of positive testimonials of Ms Dinnie.
The NMC panel also heard that she undertook training opportunities and recognised that she had full engaged with the hearing process.
But the NMC nonetheless decided to strike her off the register, with Ms Dinnie now having 28 days to appeal the decision.
The report reads: "The panel considered that your actions, over an extended period of time as a senior manager in the health service, who deliberately bullied her staff to the point where they did not want to report concerns or near misses and who frightened her staff to the extent that they considered leaving their roles, were significant departures from the standards expected of a registered nurse.
"This conduct could have put patients at a risk of harm, where patient safety matters could not be raised by staff who were afraid to raise any concerns."
North-east Conservative MSP Tom Mason said:  "These were very serious allegations.
"And the fact that this nurse was in a senior position makes the pattern of behaviour all the more concerning.
"The decision to strike-off this nurse sends a clear signal that this type of behaviour cannot be tolerated."
An Albyn Hospital spokeswoman said: "While it is inappropriate for us to comment on individuals, we would like to stress we promote a culture of caring and respect for everyone within our hospital and will always take action on anything that falls short of these expectations."
Ms Dinnie could not be reached for comment.