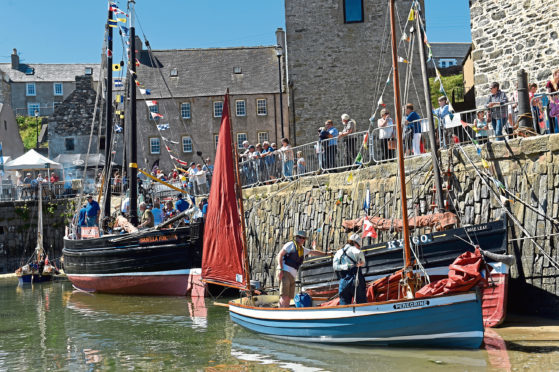 The Scottish Traditional Boat Festival will draw fiery inspiration from Shetland's Up Helly Aa for this year's event.
Thousands of visitors are expected to flock to Portsoy for the annual celebration of maritime heritage on Saturday, June 22 and Sunday, June 23.
Most of the festivities will take place in and around the town's 17th century harbour and this year the thousands of visitors will be joined by members of the Viking squad.
It is the first festival to be held without one of its central figures, following the death of organiser Roger Goodyear.
The 74-year-old, who played a huge part in transforming it into a major international attraction, died of cancer last week.
Mr Goodyear's funeral will take place in Portsoy today and festival officials have said the event will pay homage to him.
This year's festival programme pays tribute to Mr Goodyear, commending him for the "dedication, enthusiasm and tireless work" that helped transform the event.
Special guests will be members of the Shetland Viking squad, who will don their full regalia to take part in a torch-lit parade through the historic Banffshire town on the Saturday evening.
Their march is to begin at Loch Soy, with the grand finale on the beach, where a wooden boat will be given to the flames.
A first Viking parade, on the Saturday afternoon, will allow children to walk alongside the Norsemen.
Scottish singing duo Barbara Dickson and Rab Noakes will open the event with the Gig at the Green on the Friday night before the festival proper opens.
The Scottish Traditional Boat Festival's Vivien Rae said the organisers are "excited" to launch the programme for the 26th quayside extravaganza.
She said: "We are excited to bring together another full programme this year, with a strong emphasis on all things maritime, both on the water and on the quayside.
"We are thrilled to be welcoming Barbara Dickson and Rab Noakes for our Friday night Gig at the Green, with demand for tickets already high.
"Excitement is also building for the return of the Vikings and the mid-summer torch-lit parade.
"The rather unique opportunity for visitors to join the Vikings in the parade and carry an authentic Up Helly Aa torch is proving very popular."
For more information about the Scottish Traditional Boat Festival and the programme, visit www.stbfportsoy.org.