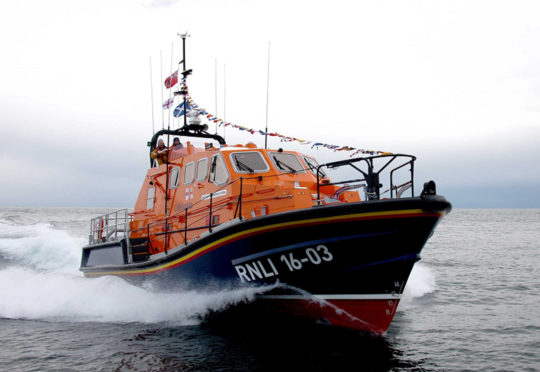 The RNLI has praised the remaining Peterhead crew after several members were axed due to internal row.
On Wednesday it was announced the Peterhead RNLI Lifeboat would be temporarily off service due to reduced team numbers leaving the crew unable to operate safely and effectively.
Several crew members were "relieved of their duties" due to internal disputes and, despite attempts, the service was unsuccessful at recruiting new members.
But the life-saving charity has thanked the volunteers not involved who have had to cope with the aftermath of the intervention.
A spokeswoman said: "We're looking forward to working with the remaining crew and thank them for the commitment that they've shown to Peterhead Lifeboat.
Charity 'confident' Peterhead lifeboat can return to active service after being stood down
"We are confident that the remaining crew will communicate well and work together as a team to provide an excellent and well-functioning emergency response service to the Peterhead area.
"We're now focusing on working with them to bring the boat back on service as quickly as possible."
Although the station is still open while the boat is inoperable, MP David Duguid is concerned about the repercussions a halted service could have.
Despite assurances from the RNLI that the coast is well served by surrounding stations, he has called for a meeting with the lifeboat bosses.
Mr Duguid said: "This situation is particularly worrying when you consider the Peterhead lifeboat was called out on two occasions in the previous week.
"I have spoken to Peterhead Port Authority which is working with the RNLI to provide some support if anything happens within the immediate vicinity of the port.
"I have sought a meeting or a call with the RNLI and will hopefully get the chance to talk to them soon."
During the period where Peterhead lifeboat is out of action, Fraserburgh and Aberdeen stations will be picking up their work.
Fraserburgh coxswain Vic Sutherland confirmed at the time of the announcement that any additional call-outs for the Peterhead area would not cause any "undue stress" on his crew, although the news did come as a surprise.
An RNLI spokeswoman also assured the public that those teams were well-equipped to cope if an issue arose.
She said: "Lifeboat stations are positioned around the coast to provide cover for their neighbouring stations and boats can be off service for a number of reasons.
"This overlap of cover means that they are very capable of dealing with a potential increase in shouts.
"Aberdeen and Fraserburgh have already been providing cover when the Peterhead boat has been unavailable.
"However, should the need arise we will obviously be providing swift technical or personnel support to ensure that our crews receive what they need."