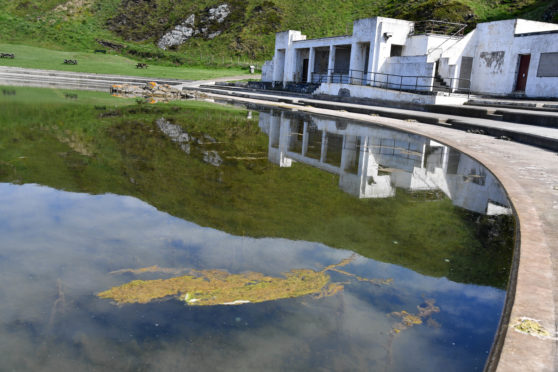 Model boating enthusiasts have been forced to pull the plug on their hobby as weeds have taken over the water at a scenic coastal spot and wreaked havoc on carefully crafted vessels.
Boats which have been set to sail at the open air swimming pool at Tarlair, near Macduff, have had their propellers fouled by the infestation in recent weeks.
Due to its stunning surroundings and outstanding views, model boaters from Moray and all over Aberdeenshire regularly visit Tarlair to pursue the pastime and devotees from as far afield as Thurso and Shetland had been planning trips.
---
>> Keep up to date with the latest news with The P&J newsletter
---
The A-listed art deco structure belongs to Aberdeenshire Council and officers are now awaiting quotes from contractors to clean out the pool.
FROM THE ARCHIVES: The day Tarlair hosted two of the country's biggest bands
The authority assured users that the attraction will be tidied "as soon as practically possible".
But in the meantime, model boaters have been forced to use other locations to avoid wrecking their miniature vessels.
Local enthusiast, Alex Oldman, said: "I have been going to Tarlair for the last 35 years trying out new models that I had completed.
"I decided, about three years ago, to make it a weekly thing on a Sunday at 1.30pm, and if anybody wanted to join in then they would be more than welcome.
"Gradually the numbers increased with people coming from Macduff, Banff, Portknockie, Buckie, Fraserburgh, Peterhead and Portlethen.
"Last year there was a gentleman who came up from Fleetwood just to sail his boat after I had posted videos on the internet."
Mr Oldman has been contacted by a fellow boater from Shetland, who plans to visit the region next week just to sail at Tarlair.
He added that time was of the essence when it comes to clearing out the water, as groups of aficionados plan outings to the north-east in the coming months.
Mr Oldman said: "The Friends of Tarlair has its annual gala in August and already some boat modellers from the Pentland Model Boat Club in Thurso have booked into local hotels for it.
"I also understand Dundee Model Boat Club members may also be attending.
"It just seems such a shame that Tarlair is such a mess during the summer months for visitors to see."
A spokeswoman for Aberdeenshire Council said: "We cannot, at this time, give a firm date as to when the work will be carried out but we will endeavour to see that it starts as soon as is practically possible."
It is not the first time Mr Oldman has been forced to abandon sailing his model boats at the pool.
Last summer, he kept his crafts on dry land rather than send them into water which had become "stagnant" there.
The pool has been out of use since it closed in the 1990s, although the council carried out £300,000 of improvements in 2014.