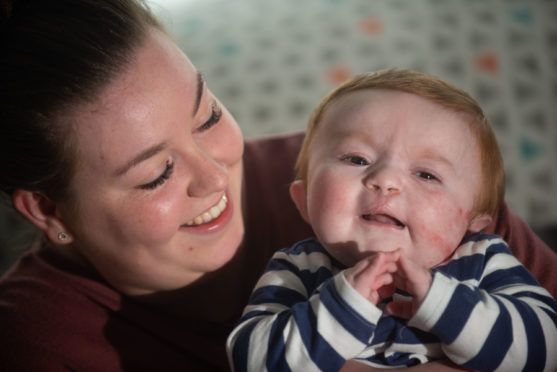 Little Ollie Murray is a picture of health, but only after surgeons stopped his heart for 11 hours to perform life-saving surgery.
The operation took four hours longer than expected and his chest had to be left open for three days to allow the swelling to go down and avoid crushing his lungs.
Nine-month-old Ollie, from Aberdeen, was born with a combination of deadly defects, including three holes in his heart and a narrowing of the pulmonary artery.
Without the surgery when he was three-months-old he would not have survived past a year.
But even then, within days of his surgery, he was rushed back to theatre after being struck down with sepsis, a type of blood poisoning.
During his marathon 10-week fight for life in hospital, he also survived a collapsed lung, a deadly hospital superbug and had to be resuscitated when he stopped breathing.
But Ollie, who had further surgery last month to correct a cleft lip, has astounded medics and his parents with his remarkable resilience.
He still has to be fed through a tube in his stomach, but he is off all medication and is enjoying life at home with parents Jessica Reid and Lewis Murray – and his big brother Alfie, aged five.
Despite all he has been through, proud Miss Reid, 26, has hailed him as "the perfect baby".
She said: "He has been dealt so much, but he is the happiest, most content baby ever.
"He's just so chilled out. Nothing phases him. He's the perfect baby – just a dream."
Miss Reid was initially told her son would be born with a cleft lip, a common facial anomaly, during a routine scan when she was 20 weeks pregnant.
But following a complicated labour, where midwives struggled to deliver the 9lb 13oz baby, they realised his condition was much more complex.
"When we were first told about his heart we were just devastated and I remember saying to Lewis that I didn't think we were ever going to get him home," she said.
"In the neonatal unit, every day we were finding out something else that was wrong. It just seemed to be one thing after another.
"When you're dealing with it, you're just in a bubble, and you just have get on with it.
"But I really struggled leaving the hospital without him. We just cried the whole way home. But I had to come home for Alfie."
"When he was really ill with sepsis I thought, 'Oh, God, he's not going to make it', but he did.
"They said he was one of the sickest kids in intensive care. But now everyone is amazed how he has come on."
Ollie still has regular hospital appointments and his parents know he will need further surgery to repair the cleft palate – an opening in the roof of the mouth – and insert cochlear implants to enable him to hear.
But right now, the family is enjoying having Ollie home ahead of his first birthday in August – a day they feared would never happen.
They have also helped to raise thousands of pound for the Ronald McDonald House in Glasgow, which allowed them to stay close to Ollie during his time in hospital.