There may seem to be little connection between a mustachioed defender immortalised in the hearts of generations of Aberdeen supporters and a world-famous Scottish cartoon character best known for sitting on a bucket.
But Dons legend Willie Miller has proved an unlikely source of inspiration for an artist, who has now transferred an image of him from his playing prime onto an Oor Wullie statue as part of a nationwide charity campaign.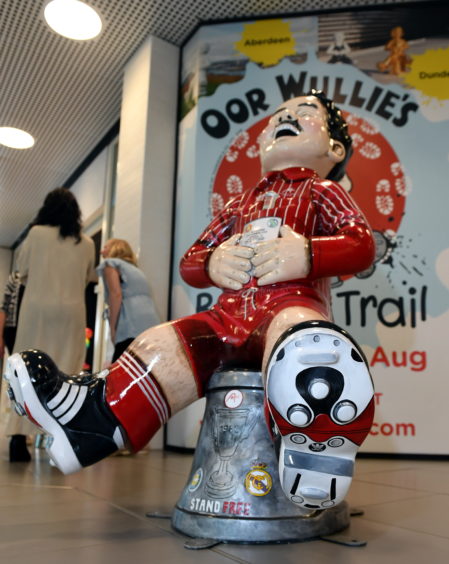 Decked in the famed red strip with white pinstripes of the time, the statue will bring back happy memories of Mr Miller lifting the Cup Winners Cup in 1983.
It will stand alongside 200 other individually designed models being displayed across Scotland for 11 weeks from Monday until the end of August as part of the Oor Wullie Big Bucket Trail.
Mr Miller's statue will be on show outside the Bon Accord centre, where he unveiled it and signed it yesterday.
The Gothenburg Great said: "When I was asked to support this I felt that I had no choice really, as the money raised will be for such good causes.
"It is an excellent design and I'm sure it will bring back many happy memories for Aberdeen fans."
Artist Sarah Mauchline said: "My family are huge football supporters so I felt like I needed to go with a football theme, and this is for all Aberdeen fans.
"I wanted to do Willie because obviously he's a Dons legend, and I tried to surround it with a big event which was obviously winning the Cup Winners Cup. That's where I got the inspiration from.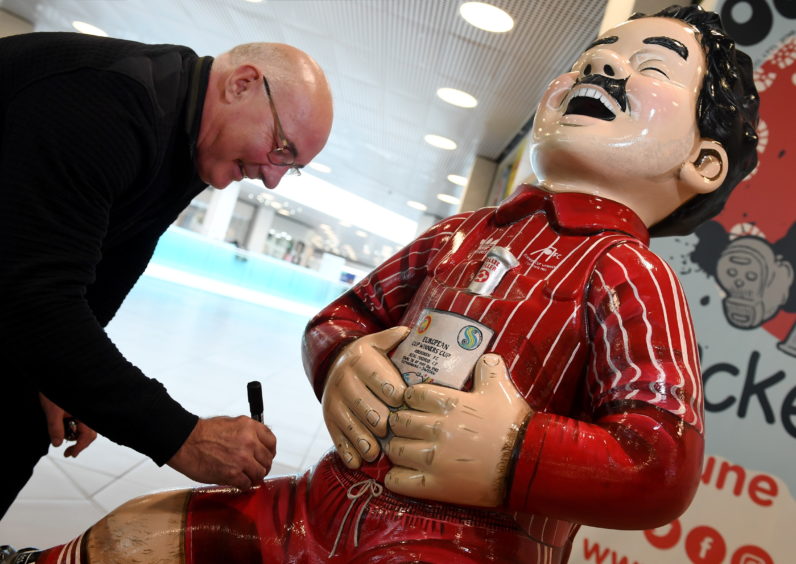 "He's wearing the strip that they wore then and there also the badges of the teams that they played, and some of the countries that they played in.
"I've been working most days on him for about six weeks, just to make sure he was right."
Bon Accord centre manager Craig Steven said: "We are delighted to be sponsoring this statue.
"I'm sure that the sculpture will prove a popular point on the trail."
At the end of the summer, the statues will be auctioned off with funds raised going towards the Aberdeen-based Archie Foundation, Glasgow Children's Hospital and Edinburgh Children's Hospital Charity.