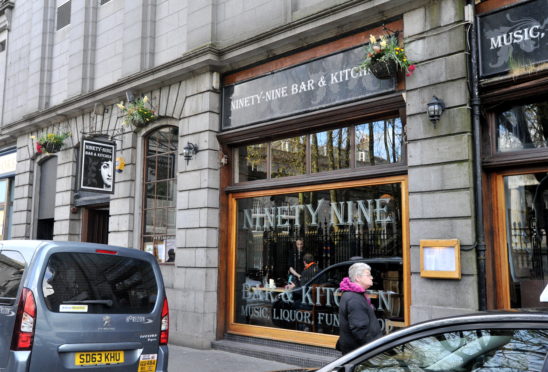 A city bar and restaurant has been accused of 26 different hygiene breaches.
Monkey Bars Aberdeen Ltd made no plea when their case, related to Bar 99 on Back Wynd, was called at Aberdeeen Sheriff Court yesterday.
No one from the firm, which is registered to an address on East Craibstone Street, was present in court when a continuation without plea was granted.
The charges relate to a seven-day period, from August 24 to August 30 last year, with the company accused of ignoring a number of improvement notices.
Among the specific accusations the firm is facing is that items within its cold storage had been left without a use-by date or were beyond it, or had been incorrectly dated.
It is also alleged that cold items had been left at room temperature, a food allergen was detected in frying oil, temperature records had not been maintained and thermometers had not been checked.
There are also accusations that staff had failed to ensure a door between the kitchen and the toilet were kept closed.
And it was also alleged there was an inadequate cleaning system in place, no hygienic hand-drying facilities at the kitchen sink and repairs had failed to be carried out.
There are also a number of accusations concerning the upkeep of fridges and freezers with the bar owners alleged to have not cleaned, repaired or replaced them.
A further charge is that kitchen and cellar walls were neglected and not maintained or repaired despite hygiene improvement notices.
And another allegation is that kitchen counter legs were left to become dirty, damaged and rusting.
Meanwhile it is also claimed the owner failed to use proper shelves to store food and there was not proper precautions against pests.
All of these allegations, if proven, would find the company in breach of either Scottish or European food and hygiene law.
Sheriff Andrew Miller granted the accused firm a further hearing in the coming weeks.