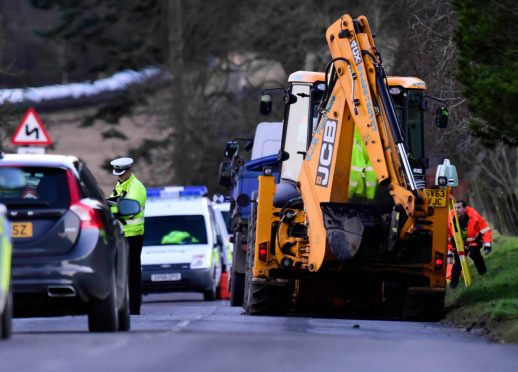 A digger driver has described the moment he saw his colleague being sent into "freefall" after being hit by a reversing truck.
Council foreman William Black was working to repair a road damaged by Storm Frank when he was hit by a tipper truck near Methlick.
Yesterday, Christopher Penfold went on trial accused of killing the 59-year-old by driving carelessly on the B9005 Methlick to Fyvie road on January 26, 2016.
It is alleged Penfold, 58, of Belfatton, Lonmay, reversed the truck without looking properly near the Gight junction and as result hit Mr Black and drove over him.
He denies the charge.
Council contractor Gary Murdoch told Banff Sheriff Court that the team had been working near the Gight junction and had just returned from their lunch break when the incident happened.
Mr Murdoch, who was driving a digger, said it happened in a "split second" as Mr Black walked between his vehicle and Penfold's lorry.
He said: "At the entrance to a house I drove in head first and reversed out to go down to do repairs on the road.
"As I was reversing, I looked left and right and caught the start of the incident.
"I just saw the lorry had started to reverse and had just started to run over Mr Black.
"He was, how can I put it, in freefall. I saw just as he had started to fall down and the wheel began going over him.
---
>> Keep up to date with the latest news with The P&J newsletter
---
"I tried tooting my horn and flashing my lights. I couldn't put a time on how long he reversed for before realising – everything happened so fast, we're talking split seconds."
Mr Murdoch said Penfold dialled 999 and tried to help Mr Black.
He added: "As an operator you always look about you for obstacles like pedestrians, vehicles and others in the squad.
"I'm high up and can normally see everyone. Chris isn't the same as he hasn't the same amount of glass as me.
"I don't know at what point he started reversing, I can't remember.
"I didn't reverse up the road as it's a lot easier and safer for me to go forwards. It's the basics of driving that it's safer going forwards."
During cross-examination by defence advocate Gavin Anderson, Mr Murdoch said he had not been shown Aberdeenshire Council's roads health and safety handbook – although accepted he had seen others in the team with it.
The court heard that Mr Murdoch himself was later disciplined for breaching health and safety rules by carrying some of the crew members in the front bucket of his digger on the day of the accident.
Mr Anderson questioned his recollection of events, and said: "Overall there are some things you remember clearly, other things you have some recollection of and some things you've little no recollection of."
Mr Murdoch replied: "It was a life changing experience – and not one for the better."
Mr Black, known as Billy to his friends, died at the scene.
He had worked for Aberdeenshire Council for five years at the Turriff depot.
The 56-year-old, who lived locally, was well-known and popular within the community.
The trial, before Sheriff Robert McDonald, continues.