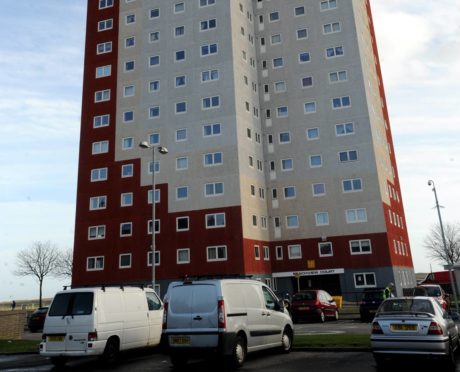 Health and safety investigators have discovered Aberdeen City Council potentially exposed workers in a high-rise to asbestos.
Unions contacted the Health and Safety Executive (HSE) following an incident at Seaton's Beachview court in April.
In a letter from the HSE to the council, they said that inspectors had found that despite being warned that a damaged door contained asbestos two years ago, the authority had not replaced it.
They also found that the contractor carrying out work had not been given an asbestos survey and was only told of the toxic substance in informal, undocumented meetings on the site.
Inspectors also said that when an electrician went into the high rise there was no check of the asbestos register and he was not given specialist respiratory equipment to carry out the work safely.
John Boland, north-east regional officer for the Unite union, said: "As a union we are extremely concerned that Aberdeen City Council are putting our members and the general public at risk of exposure.
"They have been aware of the risk for over two years, and if they can be so lax in a serious situation like this, was else are they missing and who else are they putting at risk."
The local authority will now have to pay an undisclosed fee due to the "material breach" and will have to respond to the body by next month with what they will do to improve.
HSE have previously found the council breached the law around asbestos.
In July 2018, it emerged 25 members of staff were allowed into Bridge of Don Academy after asbestos was found and did not seal off the area for five days.
The council they spent £23,000 on "bespoke asbestos training" for staff and paid HSE an investigation fee.
Commonly used in building materials until around the 1970s, asbestos has been found to cause many diseases of the lungs and is thought to be the cause of around 100,000 deaths worldwide.
Opposition SNP staff governance spokesman David Cameron said: "The council has to ensure that lessons are learned this time and that employees, tenants and service users are not put at risk."
A  city council spokesman said: "The health, safety and wellbeing of the public, staff and contractors is a priority for Aberdeen City Council.
"We acknowledge the Health and Safety Executive's correspondence and will provide a detailed response to the HSE. We are committed to working with staff and contractors, in conjunction with the HSE and trade unions, to ensure policies and procedures in relation to asbestos are adhered to."