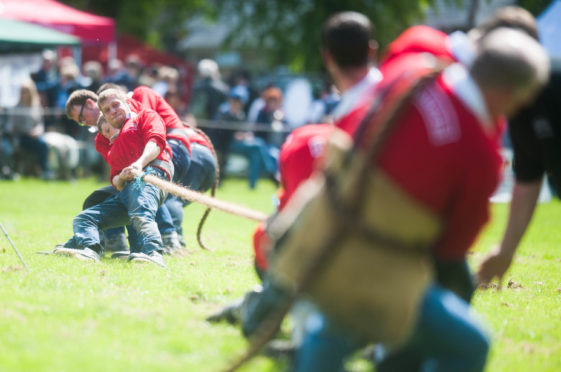 The "sunshine sports" returned to a north-east village at the weekend, despite fears of a wash-out due to heavy downpours in the days prior.
Thousands turned out at Oldmeldrum's Pleasure Park on Saturday to take in the traditional contests offered up by the annual Highland games.
About 3,500 people were in attendance to watch as teams tussled over the tug o'war, heavies performed impressive feats of strength and Highland dancers entertained the crowds with their colourful displays.
There was also athletics for the crowds to enjoy with runners competing  in the traditional five-miler event, as well as various other distances, and the long and high jumps proving  popular.
Tourists and locals began flooding into the arena at about noon and the massed pipe bands officially sounded the beginning of this year's event.
The games are traditionally opened by a celebrity or notable local person, with Lord Lieutenant James Ingleby the invited guest this year.
Arriving in a red Mercedes, provided by I&K Motors, Mr Ingleby said it was an honour to be given the chance to open the event.
He then presented two pupils from the local academy with bursaries donated by the games committee to help them pursue university or college education after they leave school.
As well as the sporting events throughout the day, which also included wrestling matches inside a marquee, there were also trade stands selling local produce, hot food and other goods.
Gordon Forsyth, secretary of the games, said: "It's come together really well, the sun was out and shining and we had a decent crowd come in – that's what it's all about.
"The one thing you can't organise in this game is the weather, sunshine always brings out a big crowd.
"We kept a good eye on the forecast, we got everything set up in time before the rain came and that meant we weren't having heavy vehicles going across the field so it was in good condition.
"The lord lieutenant has followed in the footsteps of all of his predecessors since the sports began. It was great to have the queen's representative here supporting us."
Results 
QUALIFYING HEAVY EVENTS
Light Hammer; Weight for distance; Weight for height; Overall – Ron Young
Light Stone – James Young
Caber – Conan Quinn
OPEN HEAVY EVENTS
Heavy Stone; 56lb Weight for Distance; 56lb Weight for Height (new record); British Caber Championship; Overall – Vlad Tulacek
Light Stone – Lucasz Wenta
Heavy Hammer; 28lb Weight for Distance – Kyle Randalls
Tug O'War – Elgin A
RACES AND ATHLETICS
Meldrum 5 Miler male – Fraser Drummond
Meldrum 5 Miler female – Ruth Pirie
Meldrum Mile boys – Finlay Rae
Meldrum Mile girls – Erin Delahunty
Long Jump; Triple Jump; High Jump; Jumps Champion; 400 metres; 200 metres; 90 metres – Anthony Daffurn
1,600 metres; 800 metres; Running Champion; Overall – Ewan Bradley
DANCING
Highland Fling Under-11 – Eva Macdonald
Sword dance – Moby Knight
Flora McDonald; Overall – Jayda Dilek
Highland Fling 12-15 – Eva Collister
Highland Reel; Shean Truibs; Overall 12-15 – Rosey Watt
Hornpipe; Overall – Laura Smith
Highland Fling; Reel of Tulloch – Michelle Gordon
Irish Jig – Molly Smith