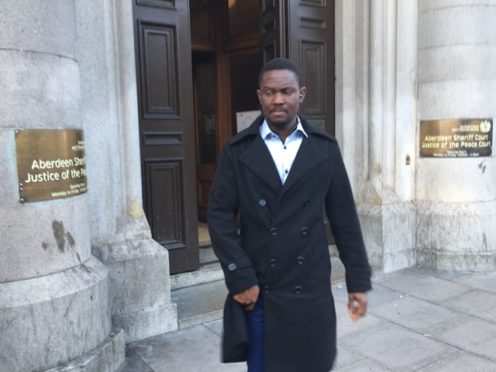 A care home helper who secretly recorded his intimate moments with a woman has been banned from working with vulnerable adults.
Dokubo Bokolo appeared in court last October and pleaded guilty to filming the woman, and sending her a "sexually explicit recording".
He also admitted possessing "extreme pornographic images depicting a horse and an adult woman".
The 35-year-old voyeur was placed on the sex offenders register for five years and ordered to carry out 160 hours of unpaid work.
In addition, a recommendation was made for him to be deported back to his home country of Nigeria.
The following month Bokolo was suspended and later sacked from his job as a support worker at an Aberdeen care home for adults.
Despite this, he failed to tell the Scottish Social Services Council (SSSC) about the matter at any point of the proceedings – neither after he was first charged nor after his conviction.
And following a two-day hearing at the regulator's Dundee headquarters, he has been permanently struck from the register.
Releasing its full report into the matter yesterday, the SSSC said Bokolo's behaviour could be viewed as "a breach of trust" and that his inclusion on the sex offenders register is "incompatible with working in social services".
The panel noted that the illegal act had been carried out before Bokolo took up employment in the sector.
It said: "It was an isolated incident, not a premeditated act," adding that the risk of him repeating the offences was "low".
The SSSC's final judgement read: "Your behaviour represents a serious departure from the standards set out in the code in place at the time. It represents unacceptable behaviour.
"There would be a reasonable expectation on the part of the public that a sanction would be imposed given the finding of impairment."
During the case at Aberdeen Sheriff Court, Bokolo's solicitor described his actions as a "gross misjudgement".
He appeared in the dock having recently completed a Master's degree in oil and gas engineering at Robert Gordon University.
The court heard that Bokolo had been planning to head home and find employment sponsorship so he could continue his studies in Aberdeen, but that a deportation order would "scupper" his chances of returning for his PhD.