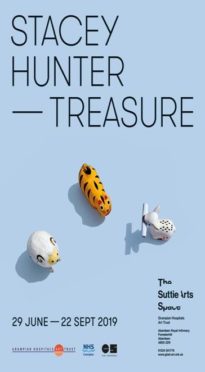 A section of Aberdeen Royal Infirmary is to be given a Japanese flavour to bring calmness to the busy hospital.
An exhibit, opening next month in The Suttie Arts Space, will explore the design and the culture of the Far Eastern nation.
Four silk scarves are to be put on display, printed with objects which curator Stacey Hunter collected while travelling round the country.
Earlier this year, she was on a two-month residency in Tokyo and Arita.
Aspects of Japanese life will be depicted including kawaii – the country's culture of cuteness, omamori amulets and mingei folk art.
There will also be a number of cast bronze objects made especially for the exhibit, which will be on display between June 29 and September 22.
Grampian Hospitals Art Trust, which commissioned the collection, has said it will create a "special atmosphere of calmness and contemplation".
A range of carefully selected plants and diffused scents will add to the experience.
The trust holds the largest collection of art of any hospital in the country.
Its tally of more than 4,000 artworks are displayed at all NHS Grampian hospitals.
GHAT was set up to enhance the wellbeing of all those who spend time in the health board's premises.
The Suttie Arts Space, where Ms Hunter's Treasure collection will be displayed, is the first purpose-built gallery within an acute hospital anywhere in the UK.