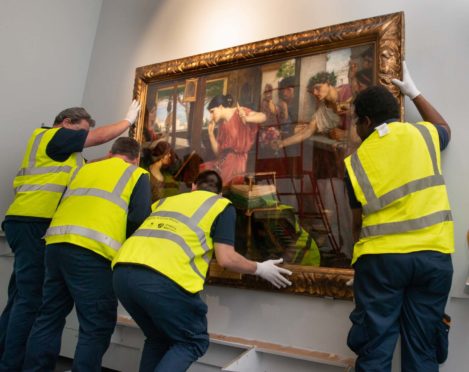 The countdown is on for the reopening of Aberdeen Art Gallery, as it was announced that the building will reopen its doors to the public for the first time in four years on November 2.
A massive £34.6 million renovation of the A-listed Victorian building has been ongoing since 2015- with works initially slated to finish two years ago.
Council bosses have said that the revamped venue will be among the "best regional galleries in the world" boasting improved visitor facilities and gallery spaces, a refurbished memorial hall and a new roof space which will host three national and international touring exhibitions a year.
The local authority yesterday confirmed the date for the reopening of the storied building.
Council co-leader, Jenny Laing, said: "The landmark redevelopment of Aberdeen Art Gallery, Cowdray Hall and Remembrance Hall is creating an exceptional centre for art and music in the heart of the city."
Fellow co-leader Douglas Lumsden said: "The cultural offering in Aberdeen has changed beyond all recognition in recent years.
"This project is of huge significance, regionally and in terms of our national and international standing."
Council culture spokeswoman, Marie Boulton, said: "The countdown to the re-opening of one of the city's most-loved buildings has begun and soon visitors will be able to experience for themselves the benefits of this once-in-a-lifetime transformation."
Critics have questioned aspects of the design of the building, and how it has been funded.
The Heritage Lottery covered £10 million of the project, the council £10 million and the remaining £10 million was due from a public fundraising drive.
However the public drive netted just £4.8 million.
Opposition SNP group leader, Stephen Flynn, welcomed the opening last night but said the revamp had been "plagued by delays and overspends".
He added: "When it finally opens, it will be verging on three years late.
"It's just not good enough for a cultural hub in our city to be closed for almost five years – lessons simply have to be learned."
Riona McMorrow, the National Lottery Heritage Fund's acting head of Scotland, said: "Aberdeen Art Gallery will attract more tourists to the area, and benefit the wider community."