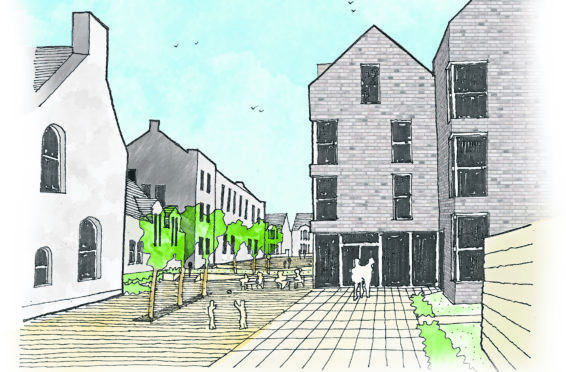 The sale of a historic primary school, which was repeatedly threatened with demolition, has been hailed as a "proud day" for an Aberdeen community.
The council has handed over the keys of Torry's Victoria Road primary to Grampian Housing Association – who will convert the building into affordable homes and community facilities.
However, the developers may face fresh challenges after a blaze ripped through the Victorian granite building last month.
The roof of the school, built in 1838 and closed in 2008, partly fell in during the fire and an investigation has now been launched into the cause. The extent of the damage the building suffered is not yet known.
But Grampian Housing Association and its partners, the Torry Development Trust, vowed to push on with their vision for the school's renewal despite the setback.
One plan by developers Barratt, in 2016, would have cleared the site and built 56 homes.
But the proposal prompted outrage in the community, with more than 550 letters of objection sent – and councillors rejected the scheme.
Council co-leader, Douglas Lumsden, last night said he was pleased that years of uncertainty over the building's ownership were now at an end.
He said: "It has always been our aim to see the site brought back into use and the sale will bring about the regeneration of a key location in the Torry community".
Torry and Ferryhill councillor, Catriona Mackenzie, said: "This is a proud day for Torry and marks an incredible achievement for Torry Development Trust and Grampian Housing Association in making this happen.
"This has been a long, hard-fought battle not made any easier by the city council administration's repeated re-marketing of the site.
"But at last the people of Torry have their hard-earned opportunity to bring these buildings back to life and create a lasting legacy for Victoria Road School."
Neil Clapperton, chief executive of Grampian Housing Association, said: "It is an exciting day being able to finally announce that Grampian is the new owner of this site.
"Through our partnership with Torry Development Trust we welcome the opportunity to work with the people to present a shared proposal.
"Our plans will bring together affordable housing and community facilities to breathe new life into the heart of Old Torry.
"However, the first steps will be to follow through on our initial commitment to make sure that the buildings are wind and watertight."