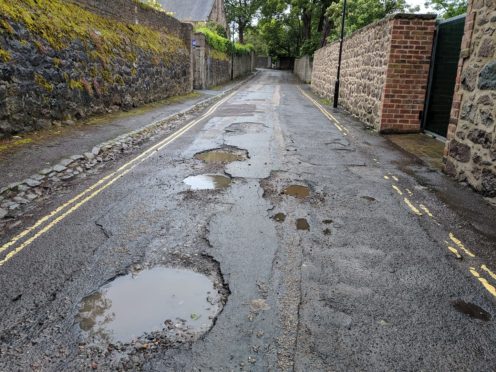 An Aberdeen community wants the city council to take formal responsibility for an ancient city road – warning it has become "a safety hazard".
The tarmac stretch of the historic The Chanonry in Old Aberdeen is badly gouged with potholes.
The road, which is more than 300 years old, leads from the Aberdeen University bounds to Seaton Park and St Machar's Cathedral.
As with a number of the more historic city streets, records are scarce about its ownership and it is still classed as being under private ownership.
The local authority has repaired the surface in the past, but is now facing calls to go further.
Old Aberdeen Community Council is pushing the city council to fully adopt the street – meaning it would accept liability for future repairs and resurfacing.
SNP city councillor for the area, Alexander McLellan said: "I accept there is a safety issue at The Chanonry, particularly given the volume of tourists who visit Old Aberdeen.
"The roads budget was cut this year, so I see it as highly unlikely that a substantial repair to an unadopted road will be forthcoming.
"But, at the end of the day, something needs to be done in terms of a temporary patching repair in the interest of safety.
"I have asked for the potholes to be filled as a temporary repair – it is a hazard.
"I think it's reasonable to go and fill the potholes in to stop someone hurting themselves."
Eric Kiltie, planning representative on the community council, said: "I worry the council will go and chuck in some patches and then forget about it for the next three-25 years.
"I want this road on Aberdeen City Council's radar so they keep an eye on it and maintain it – I want it adopted."
"We hear the city council is trying to promote tourism and get people to visit the city.
"I get people walking about with maps asking me directions and just say to myself that the street is an embarrassment.
"The status quo of not knowing who owns it – meaning it can't be adopted – is absolutely ludicrous."
Mr McLellan agreed to ask Aberdeen City Council officers to estimate the cost for adopting The Chanonry and bring it up to standard.