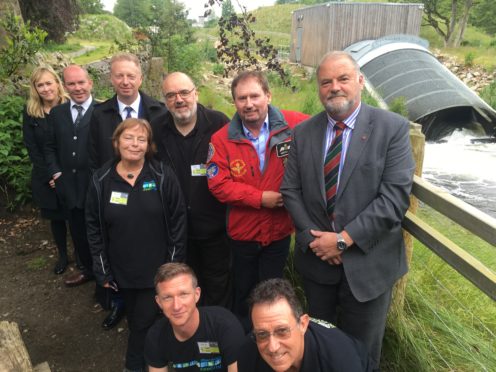 High-level delegates from the government of the Isle of Man paid a visit to a community-operated Aberdeen hydro-electric scheme yesterday for inspiration on how to power the island in the future.
The party visited the Donside scheme, which turns the currents from the River Don into community power.
Aberdeen Community Energy (ACE) opened the site near the Diamond Bridge in 2016 after four years of hard work.
The hydro scheme, which is selling electricity to the national grid, is expected to generate many thousands of pounds for a community fund together with enough electricity to power the equivalent of around 130 homes every year.
With a population of just 83,314 – as of the 2016 census – the Irish Sea crown dependency is considering new energy sources for its population as part of a world-wide move to more environmentally friendly alternatives.
Following a seminar at the nearby Donside village, the seven delegates ventured onto the scheme itself for a tour before a lunch provided by local charity Cfine.
They will visit Orkney today to view similar projects.
Founding director of ACE, Sinclair Laing, said he was heartened by the attention the project was receiving from across the British Isles.
He said: "This visit has been very exciting for us.
"One of our main aims when starting out was to spread the word about community power projects like this and it was great to tell the delegation all about it."
Geoffrey Boot, minister for the department of the environment at the government, added: "We are starting to look at our energy needs and while something on this scale might not be achievable in Man, it is a great example of community energy generation."
Tillydrone, Old Aberdeen and Seaton councillor Ross Grant, who holds shares in the scheme, said: "It has been one of the best examples of community-led innovation and regeneration in the city in my opinion.
"If the Isle of Man are looking for best practice then Aberdeen Community Energy at the Donside Village are incredibly well placed to demonstrate that."
Fellow ward councillor Alex McLellan added: "This visit will highlight the tremendous work being done by the Donside Hydro Scheme"