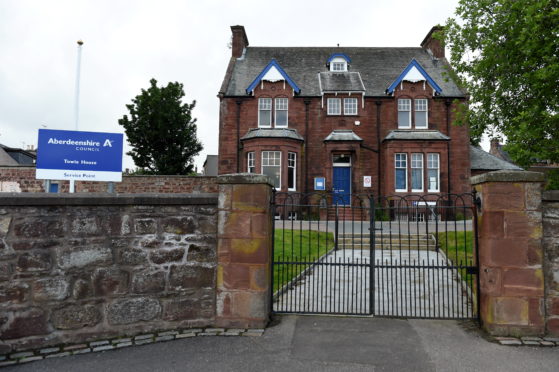 Turriff residents fear the loss of face-to-face council services following the announcement that office hours could be cut.
A survey on the future of services at the Towie House office is to be carried out, with a reduction in its hours of operation among the proposals.
The facility is one of Aberdeenshire Council's service points, offering a range of assistance for locals in relation to housing and planning advice.
It has been suggested that local people could seek services at libraries, which offer longer opening hours, if the step is taken.
Members of Turriff Community Council were notified of the public survey this week and residents have already begun to express their dismay.
John Smith said he feared slashing opening hours at Towie House would be the beginning of the end for face-to-face access to council services locally.
"More and more the Council could only be contacted via the internet," Mr Smith said.
"There is a simple rule – reduce the hours and there will be less contact with our council.
"It is inevitable and sad.
"I always worry that when a survey is to be undertaken the outcome has already been decided.
"Here the start point, we have been told, is that there will be a reduction in the opening hours.
"Towie House is plainly on the way out."
Residents are worried their face-to-face access to council services may end as its unveiled the service point opening hours could be slashed.
Members of the Turriff Community Council were made aware this week that a public survey of the Towie House council office would soon be carried out.
Councillors are, however, adamant the service point will still be available for locals in some fashion.
Sandy Duncan said: "A review of the service could show that usage of the service in the afternoon is minimal so that service could be offered from the library instead."
Councillor Alastair Forsyth, meanwhile, said: "When reviewing hours and staffing, it's important to have a public review.
"There have been comments that this is a done deal but I can reassure residents it's not and that the survey will be taken seriously by officers."
Iain Taylor echoed that sentiment and added: "One lady is retiring so this is the appropriate time to consider how best the service can continue – change need not to detract from the town."
Community council chairman Mike Rawlins confirmed the group had been sent an "initial email" and would "discuss it".
A spokesman for Aberdeenshire Council said residents would be surveyed on service point opening hours, available from the service point and library, in the near future.
He said: "We recognise how important our service points and the services provided through them are to communities, but use of this facility has been decreasing.
"We would like to understand why, as well as how the opening hours can be adjusted to best suit the needs of the community with the resources available.
"We are developing proposals to ensure that a wider range of advice and services is available through local libraries to enhance the local services available."