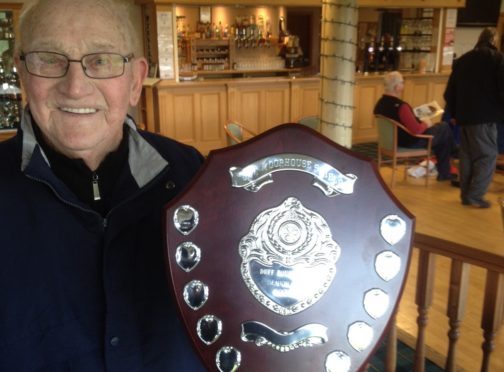 A north-east golfer has proven age is no barrier by winning a club tournament at the age of 96.
Retired builder Joe Moorhouse teamed up with retired butcher John Stewart to win the foursomes tournament at Duff House Royal for the second year in a row.
The trophy was donated to the Banff club in Mr Moorhouse's name in 2017 as he, at the age of 94, was the club's oldest member.
Mr Moorhouse was thrilled to become the oldest winner of a competition in the club's history by retaining the trophy.
He said: "I'm delighted, I won it last year and this year.
"I don't really know what it is because I'm never that bothered by the result.
"I suppose it's a wee bit of luck and also having a really good partner.
"It was lucky John and I got to play together again – we didn't plan it. I guess you could call it fate."
Mr Moorhouse has been a member for more than 50 years and plays at the Banff course twice a week.
This win has prompted members to put him forward for honorary membership of Duff House Royal.
Duff House Royal golf club congratulated Mr Moorhouse for his second successive victory.
A spokesman for the club said: "We were so happy for Joe to win his shield for the second time.
"The trophy was donated by Joe for the seniors. It's played once every year and it's great that Joe and his partner Johnny have won it again.
"He's the oldest member here as most folk retire around 75 but Joe keeps on going.
"He comes down every Saturday and Tuesday to practise and he's been here for all of 54 years."
Mr Moorhouse, who has a handicap of 23, has vowed to continue competing.
He said: "I just love it. It lets me meet my friends and keeps me out of the house.
"I just always try to do my best."