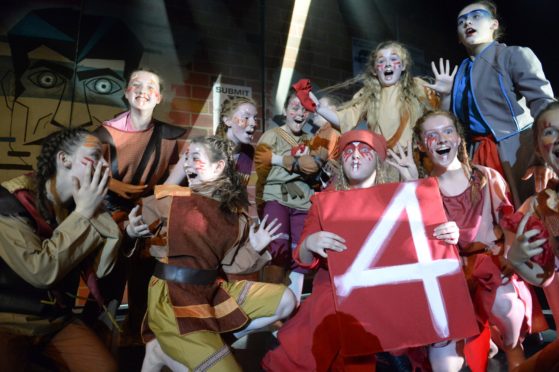 Youngsters from a north-east school impressed judges with a routine inspired by a famous novel as they finished third in a national dance competition.
The dancers from Peterhead Academy were among the top schools from across the country taking part in the final of the UK Rock Challenge.
They were competing with nine other secondary schools hoping to bag the top prize with their performance.
The dance by the Blue Toon pupils was called "Thoughtcrime" and drew inspiration from George Orwell's dystopian novel 1984 by focusing on a young man trying to avoid an all-seeing Big Brother figure.
The group from Peterhead Academy was the only Scottish secondary to make it to the grand finale, which was held at the Grimsby Auditorium on Saturday.
A team of 80 dancers and crew travelled south to the Lincolnshire town at the weekend.
Peterhead Academy biology teacher Lynne Greig has been involved with the competition for more than a decade and said the journey of hundreds of miles was worth it.
Miss Greig said: "They did really well and we are so proud of them. We couldn't have asked for anymore.
"It is a long way to go, but this is the end of nine months of hard work.
"We travelled to Leeds on Friday before heading to Grimsby on Saturday so it was a long day for everyone."
West Lakes Academy and Whitehaven Academy, both from Cumbria, took the first two places in the competition with Buttershaw Business and Enterprise College from Bradford finishing fourth behind the Buchan youngsters.
Andrew Marr from sponsors Andrew Marr International, a seafood firm, praised those involved.
He said: "We all enjoyed an absolutely marvellous evening, and I would like to take this opportunity to congratulate all the students and all the schools taking part in this event."
The UK Rock Challenge was launched in 1995 and has encouraged thousands of schoolchildren to write, produce and perform stage shows for a live audience.
Peterhead pupils came fourth in the competition last summer and came second in 2017.