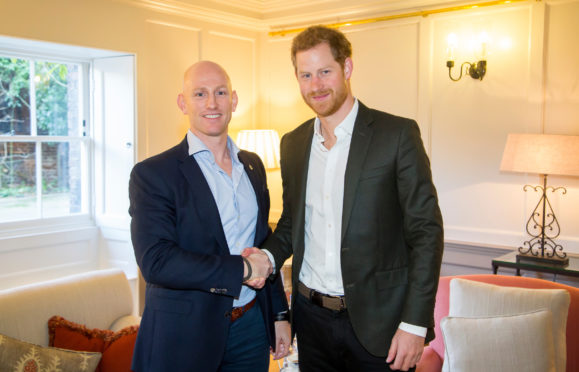 A watchdog investigation into an ex-soldier's record-breaking cycle will find no wrongdoing, his team has insisted.
Former Special Boat Service (SBS) trooper, and friend of Prince Harry, Dean Stott broke two world records when he cycled from Argentina and Alaska to raise funds for mental health charities last year.
The 42-year-old became the fastest man to have cycled the length of the Pan American Highway, taking 99 days, 12 hours and 56 minutes.
Along the way, he also became the quickest to cycle the 6,000-mile length of South America, taking just 48 days.
The Peterculter father-of-two raised more than £993,000 in donations in the year to August 31 2018, according to the documents lodged with Companies House.
PAH 2018, Pan American Highway Cycling Challenge Charity – started by Mr Stott and his wife Alana – donated more than £500,000 to Prince Harry and William's Heads Together charity that same month.
But a total of £897,064 was spent that year – with no further donations publicised.
The Stotts have since relinquished their significant control of the charity.
The Office of the Scottish Charity Regulator (OSCR) has confirmed that a formal inquiry has been launched into PAH 2018.
Last night a spokeswoman for the watchdog said: "We have an open inquiry into the charity.
"In line with our inquiry policy, we cannot discuss an ongoing case as this may prejudice the work of the charity or the work of OSCR."
But a representative for PAH 2018 was confident everything would be "100% fine", claiming it was not an investigation into wrongdoing.
"There are accusations £400,000 has been claimed in expenses from donations," she said.
"That is absolutely incorrect, there was none of that.
"Everything spent on the ride was from a sponsor.
"We were clear all money raised was to go to the charities.
"That's what OSCR is double checking and what will come out in its full review is that every donation was given."
Mr Stott's charitable endeavours gained widespread media attention because of his friendship with Prince Harry.
They met during military training when they were partnered up for an exercise.
The former SBS soldier even skipped rest days on the 14,000-mile journey to ensure he could see his friend marry Meghan Markle.
In doing so, his effort beat the existing Guinness World Record for cycling the PAH by almost 18 days.
But the triumph has been overshadowed by accusations of cheating after relations broke down with his support crew on the road.
The Afghanistan veteran denies falsifying documents to speed up border crossings and using more than one bike – something Guinness World Record rules wouldn't allow.
The PAH 2018 spokeswoman added: "OSCR received letters with claims constantly and are now investigating to clear it up.
"Guinness did the same after the cheating claims and said it was all 100% fine.
"We have no doubt it will be the same with OSCR."