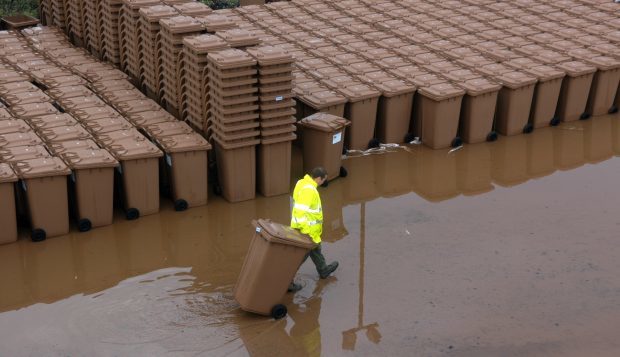 Hard-up Aberdeen pensioners will not be hit with a feared double-whammy brown bin tax, city bosses have ruled.
Many council tenants who are physically unable to tend their own gardens pay the local authority £75 each year to have workers do it for them instead.
Concerns were raised last month that some residents could be charged twice when the controversial new garden waste collection charge comes into force in September.
The scheme, approved as part of the city council's budget this year, will require residents to pay £30 a year for a special brown bin sticker to have garden waste picked up from the kerbside.
But fears were raised that the tenants, many of them elderly or infirm, could be hit with both fees.
Now the council has begun telling residents they have no need to worry.
A letter has been sent to tenants across the city to say the cost of the permit will be covered through the garden maintenance charge.
The document states the application process will be completed for them automatically, with the gardener who maintains the land attaching the sticker to the bin as well.
Last night Brian Sloan, the chief executive of charity Age Scotland, said: "We're glad to hear that Aberdeen City Council is reassuring residents who use this service that they won't have to pay twice to have garden waste removed.
"Many service users have limited mobility, live alone, and are on a fixed income, and were understandably worried about an extra bill."
Aberdeen Central SNP MSP Kevin Stewart said: "The fact it has taken three months since the original decision to provide clarity tells folk all they need to know about this muddled policy."
A council spokeswoman said: "The garden maintenance service is available to those council tenants who are elderly or infirm and are unable to cut their grass.
"As this service is commissioned from the housing service, a letter is due to be sent to council housing tenants who pay for Aberdeen City Council's garden maintenance service. This is to explain how the service change will impact them.
"They will require a garden waste permit from September 1 however the housing service will cover the costs of these permits and will arrange for the gardeners who undertake the maintenance to attach the permits to brown bins."