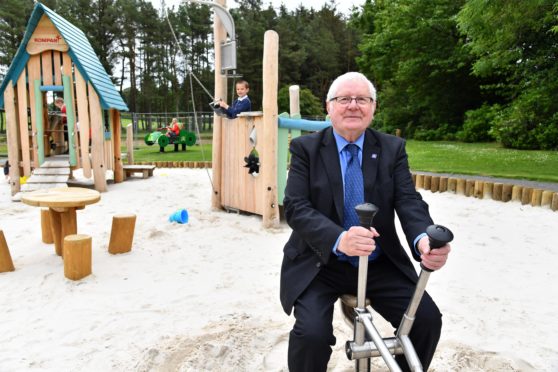 Primary school children from across Mintlaw have put a new play park to the test.
The £300,000 play area at Aden Country Park was officially opened to the public yesterday, with two local primary schools joining the celebrations.
Mintlaw and Pitfour pupils were let loose on the new equipment, which includes a sandpit with diggers, large climbing frames, twin flying foxes and a variety of swings and slides.
Many of the new additions are accessible, meaning blind and disabled youngsters will be able to join in the fun when they visit the landmark.
Some of the equipment is still to be installed but, if work remains on track, it should be completed by the end of September.
The development is part of a wider £2.13 million project to make the Mintlaw attraction more appealing to visitors.
After councillor Norman Smith announced the first phase of the park as open, the young pupils ran to try out the equipment.
Mintlaw pupil Eva Willox, 10, was impressed by the sand pit.
She said: "It's good – at the sand area there's lots to do and I like the digging part and the pulley.
"It's been good fun to explore."
Fellow pupil Billy Wallace, 11, agreed that the diggers looked exciting.
He said: "I've not been near it yet but I really like the look of the diggers and using the chains and buckets in the sand.
"The climbing frame is really good fun to play on – I've tried that out.
"There are so many things you can do on it. It's so much more exciting than a normal climbing frame."
The pupils from Mintlaw Primary were from Mormond House, who won the most points and so were allowed to attend the opening as a treat.
Head teacher Sarah Forrest said: "What a huge difference compared to what this place used to be like.
"There's such a range of things for all ages to do."