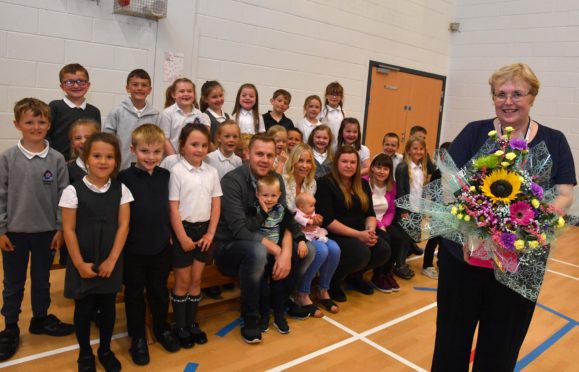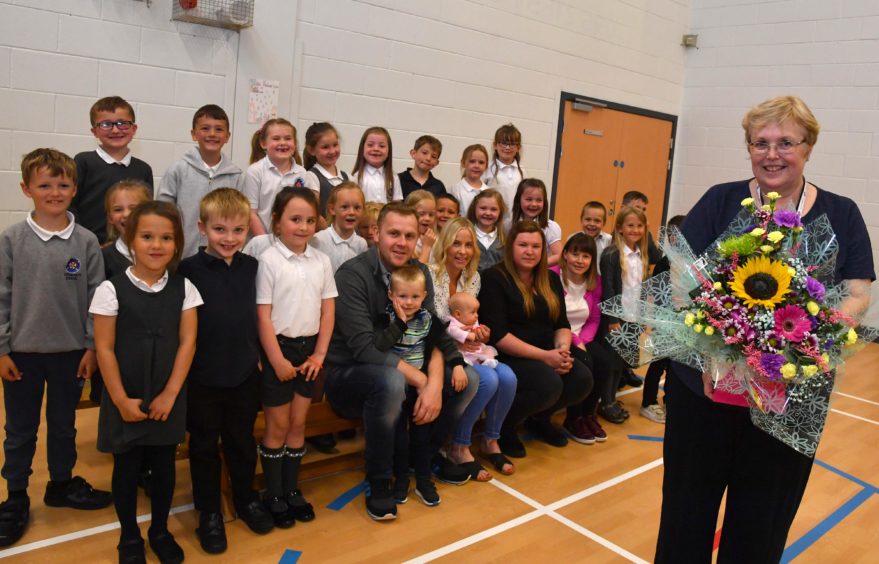 A north-east teacher who is retiring after almost 30 years has celebrated the occasion with pupils young and old.
Ann Brown, who joined Rosehearty Primary in 1991, attended a special assembly where she was surrounded by current and former pupils.
The surprise event was organised by head teacher Mike Taylor, who gave a speech in recognition of her service.
He said: "You've been here for 28 years after teaching in other schools and we've a book of school information which goes back 100 years.
"On April 24 in 1991 you were interviewed for the senior teaching post and you started on May 24 that year.
"I would like to wish you all the best for retirement – your pupils have prepared you something special."
The whole school then delivered a rendition of So Long, Farewell from the Sound of Music – naming it an Ode to Mrs Brown.
As part of the assembly there was also a congratulatory message from her son who is currently working away from home on a yacht.
Mrs Brown said she was delighted by her gifts and her former pupils attending the ceremony.
She said: "This has been a great surprise.
"I'm excited to have more time to do creative activities as I really enjoy arts and crafts and we're also going on a cruise."
Lianne Harper is the mum of Mackenzie, one of Mrs Brown's current pupils and was also in Mrs Brown's first class at Rosehearty.
She said: "She's taught all of my children, Mackenkie being the last."
Another of her former pupils, Nicola Duthie, added: "I've not seen her since school but she's not changed much at all."