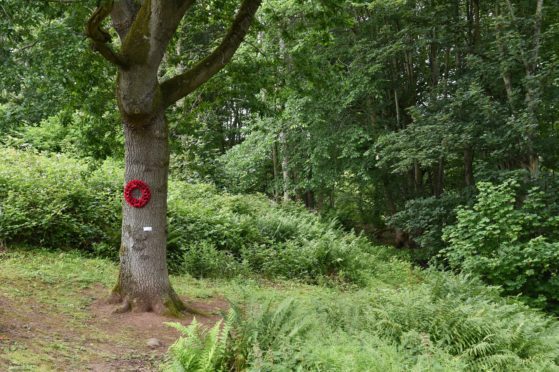 A special service took place at a First World War memorial tree, 100 years to the day since it was originally planted.
The "peace tree" lies in the grounds of Dunnottar Parish Church and, for many years, had become obscured by overgrown plants.
But, in recent times, efforts were made to uncover the oak and last year, on the centenary of the end of the conflict, it began producing acorns again.
Around 70 people attended a service in the church before a wreath was hung on the oak yesterday.
Donald McRae, a church elder, has helped lead the efforts to ensure the tree becomes a focal point for remembering the fallen once again.
And he was pleased about the fashion in which the community has rallied round to create the poignant memorial to the fallen.
He said: "I was born and brought up in Stonehaven, but I was away from the town for about 30 years.
"The peace tree had completely left my mind when I returned, but then a couple of people asked me about it.
"By that point, it had been covered by trees and brambles so, over the last few years, I have been clearing the area around it.
"SSE, which has a power line nearby, actually loaned us their workers for two days and helped clear everything away.
"And last year, for the first time in many years, it began producing acorns which was a sign it had started to flourish again.
"In recent years, we have taken the wreath from the previous year's Remembrance service, which hangs in the church, and placed it at the tree."
The service was conducted by Reverend Alan Murray, from St Ternan's Church in Banchory, who is also the current Moderator of Presbytery for Kincardine and Deeside.
Rev Murray read from some writings related to the armistice and the war, as the prelude to the congregation singing a selection of hymns.
A number of attendees had relatives who fought in the trenches more than a century ago, and the local freemasons were also at the ceremony.