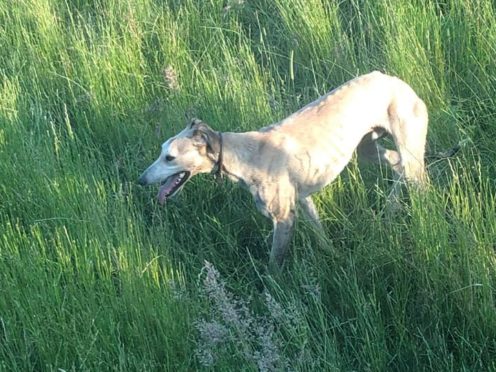 A farmer was forced to chase a stray dog away from his sheep in a tractor.
The pale brown dog, believed to be a greyhound, attacked a number of sheep near Balmedie on Sunday.
It had previously been spotted running down Balmedie Beach and surrounding areas.
Last night, a farmer said it was "horrific" to see the injuries caused to his flock and that the vet had to be called.
He said: "My son went out into the field around 8pm on Sunday night and saw the sheep had completely scattered.
"He went to see what was going on and saw a dog chasing and attacking the sheep – there was no sign of the owner."
The farmer's son desperately tried to scare the dog off, eventually resorting to jumping in his tractor and driving towards the dog and beeping the horn.
Nine of the sheep were seriously hurt.
The farmer said: "Eventually the dog ran away into some sand dunes.
"But it had left a lot of damage.
"There was a lot of blood – the dog had ripped at the bodies of the sheep.
"I've never experienced anything like this before – it was very stressful.
"We have the vet coming out today to see the sheep, they have some deep cuts and are still bleeding a lot."
---
>> Keep up to date with the latest news with The P&J newsletter
---
Earlier this year the Press and Journal revealed that the north-east had recorded the highest number of sheep worrying incidents in Scotland, with 32 cases reported to police in the space of just one year.
The perpetrators were identified by police in just 19 of those cases, and branded "thoughtless, selfish and foolish" by politicians.
Speaking about the most recent incident, National Farmers Union (NFU) president Andrew McCornick said more could be done to prevent such "suffering."
He said: "Attacks on livestock are happening all too often and we need the support of local dog owners to help prevent this.
"Many people underestimate the damage dogs can do – whether that is attacking livestock when being off a lead or causing them to contract dangerous diseases through their poo – we need dog owners to take responsibility for controlling their dogs.
"Keep your dog on a lead on farmland and ensure they are under close control, a measure that can help to prevent suffering such as this."
The dogs whereabouts are currently unknown – but concerns have been raised on social media that it looks malnourished.
A spokeswoman from charity Give a Greyhound a Home said the dog "did look thin" and that "you shouldn't be able to see spinal protrusions on its back."
She said: "It looks like it has been abandoned for a long time."