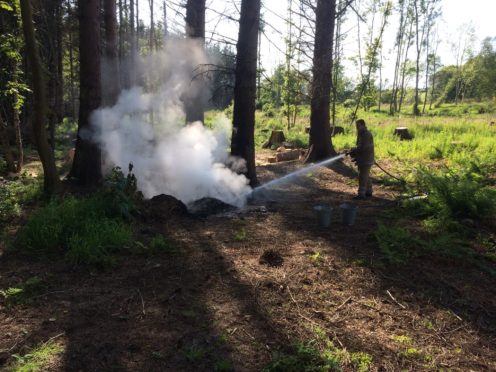 A north-east ranger service has warned of the high risk of blazes after discovering an abandoned bonfire.
Two of the Aberdeenshire Council Rangers had been out on the Formartine and Buchan Way and walking around Mormond Hill.
After returning to Strichen, someone alerted the pair to a nearby fire in woodland.
Firefighters were called to assist with the smouldering remnants of the blaze as the two rangers watched on.
They subsequently released a post on Facebook warning of the dangers of fires at this time of the year.
It read: "The high fire risk continues: despite the recent cool and damp weather, the ground is still dry and there is a high fire risk.
"Two of the rangers were out on a recce on the Formartine and Buchan Way and around Mormond Hill.
"On returning to Strichen at 4pm, we were alerted by a member of the public that there was a fire in the forestry plantation in the community park.
"We discovered an abandoned bonfire which had been lit by the volunteers who manage the woods.
"This had been a big bonfire and the ashes were very hot.
"The fire was burning down into the soil and the peat layer was smouldering.
"The 20 litres of water we had in the van was ineffective in extinguishing it, so we called the fire brigade, who doused the fire with 2,200 litres of water from the engine tank.
"Please do not light fires in these conditions and never leave a fire unattended."
A spokesman for the fire service confirmed they attended the blaze on Monday.
He said: "We were called to a fire on Monday at Strichen Community Park at 4.48pm.
"We extinguished a small fire by using a single hose reel and buckets of water.
"The stop call came in at 5.31pm."
There have already been a significant number of grouse moor and forest fires across the north east this summer.