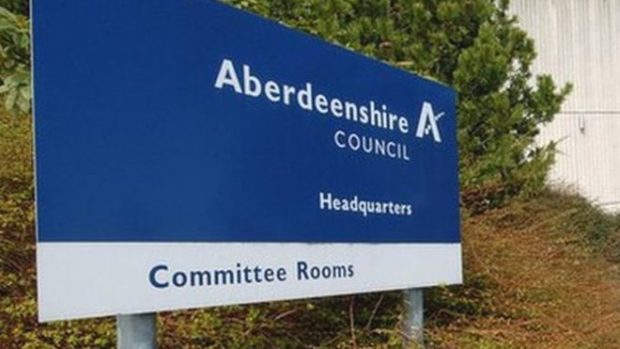 Auditors have warned Aberdeenshire Council it is at "risk of fraud" after £331 million of invoices were found which did not match purchasing paperwork at the authority.
The public spending watchdog Audit Scotland highlighted a series of "weaknesses" in they way it oversees payments.
It said it could not "easily verify and take assurance" from the "old legacy systems" in place for monitoring purchasing at the council.
In a new report, the external auditors said they had previously highlighted evidence that officials had been approving invoices without having sufficient authority.
When the watchdog checked again as part of its 2018/19 interim report on the council, it found 154,000 invoices, with a value of £331m, that were in its system but "not matched to a purchase order".
As a result, the auditors further reviewed spending in three areas, and found CareFirst social care orders were "satisfactory" because all care packages were approved by a social worker and invoices were matched to each package.
But a finding of "unsatisfactory" was recorded for the handling of payments relating to roads and the transport fleet at the council, as the records were being kept manually.
"While the council are considering options to process all orders electronically via Oracle, no change has yet been implemented to reduce the identified risk," the report said.
"Such weaknesses in invoice authorisation could increase the risk of fraud."
Last night, an Audit Scotland spokesman said: "There are controls in place, many of which involve old legacy systems, but these aren't ones we can easily verify and take assurance from."
An Aberdeenshire Council spokeswoman said: "The scrutiny and governance of the council's spending is robust and verified by our external auditors.
"We operate manual as well as electronic controls on purchase orders to ensure compliance with financial regulations."
The local authority was also warned in the same report that it should improve the way it handles payments to social care providers, with many being more than six months late.
Audit Scotland said the council risked "adversely impacting" on the cash flow position of providers, meaning they could "go out of business", and leave a smaller number to work with.
"Given the nature of the services involved and the current economic climate, we would encourage the council to review its arrangements to ensure it is not adversely impacting on the cash flow of businesses it is depending on," the report added.
A council spokeswoman said: "We have relationships with care providers across Aberdeenshire and work with them to ensure timely and accurate payments.
"As part of our aim to continually improve our financial systems we are reviewing the CareFirst system and will ensure key stakeholders are consulted."