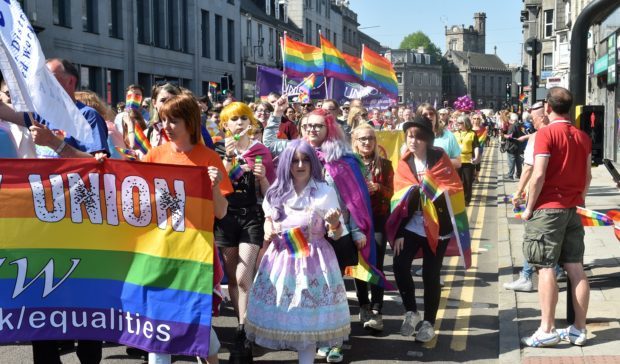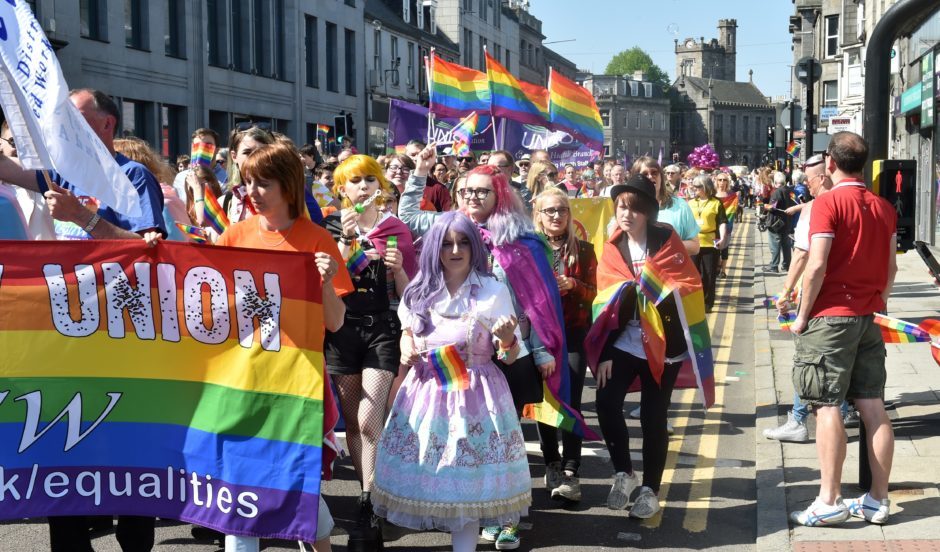 The number of hate crimes targeting people in the north and north-east because of their sexual orientation has soared in the last two years.
Police in the region are now receiving reports of such crimes almost once every three days, according to new figures obtained by The Press and Journal.
The findings come after a string of successful pride events across the region, including a 3,000-strong parade through Aberdeen in May.
LGBT equality campaigners have branded the new findings "alarming" – and are warning that the true numbers are likely to be far higher due to rampant under-reporting from victims.
According to the official Police Scotland statistics, officers were alerted to 103 crimes where someone's sexual orientation was an "aggravating factor" in the year to April.
By comparison, they were called to 50 over the course of 2016-17.
Deejay Bullock, the founder of Aberdeen-based LGBT support charity Four Pillars, and Grampian Pride event manager, said: "It's alarming to see the figures going up, not down.
"We are aware, through our work with the community, that a lot of people do not report crimes, because they think it's too small an issue or nothing will get done.
"It is true that sometimes justice is hard to obtain and individual cases may not secure a prosecution but that doesn't mean it is too small.
"All hate crime is a crime and should be reported regardless."
He added: "It is hard to tackle a national issue if we don't have all the facts.
"Reporting all incidences is important to help us combat this growing issue as a community."
VIDEO & GALLERY: Grampian Pride takes to the streets of Aberdeen
Sophie Bridger from charity Stonewall Scotland described the figures as "shocking" and said: "We know that this won't be the full picture.
"Under-reporting is a major issue, with more than four in five anti-LGBT hate crimes and incidents not reported to police."
Chief Superintendent David Duncan said: "Any form of hate crime is unacceptable.
"We are aware that it is under-reported and work closely with partners on a daily basis at national and local levels to raise awareness and encourage victims to report it.
"It is vitally important that people know they can report it and how – and that we will listen and make every effort to deal with it.
"The rise in some areas hopefully shows there is increased confidence."
So far this year, eight major pride events have taken place across Scotland and a further six are planned for the coming weeks and months.
Huge crowds have gathered for rallies and parades in far-flung areas including Stornoway and Bute, while rainbow-clad revellers have lined the streets of Oban, Aberdeen and Edinburgh.
A large celebration has been organised for Glasgow on Saturday, followed by similar events on Sunday with thousands expected to attend Proud Ness at the Bught Park in Inverness.
West Lothian College, Perth and Dundee will also stage events over August and September.