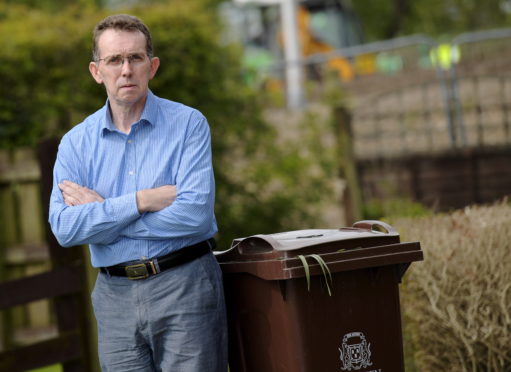 Aberdeen residents attempting to sign up for the city's controversial new £30 brown bin charge are understood to have been bedeviled by IT glitches.
Registration for a special "tamper-proof" sticker to attach to their garden waste bin which will mean that refuse collectors will pick it up after September 1 began yesterday.
But the Press and Journal was contacted by a number of Aberdeen residents struggling to sign up to the new levy online.
Opposition Liberal Democrat group leader Ian Yuill said he too had been contacted by a number of struggling constituents.
A council spokeswoman said however there was "no issue with the website" and more than 1,000 applications had been received in the first few hours.
UPDATE:
More than 1,000 sign up for Aberdeen garden waste permit on first day
Mr Yuill has already written to council chief executive Angela Scott to express concern over the scheme's opening day woes.
The £30 fee will cover collections of garden waste for a year, but residents can still have food waste uplifted from their brown bins for free.
At this year's budget meeting, the ruling Conservative, Aberdeen Labour and independent administration announced the introduction of the new levy as part of efforts to make savings of more than £40 million.
Council bosses are expecting an income of between £792,000 and £990,000 annually from the charge.
Mr Yuill said: "One constituent could not sign up online and so phoned a call centre where staff advised them to try again tomorrow.
"Many people across the city are already angry about this policy and I think the council not having its ducks in a row to allow people to sign up to it just adds insult to injury."
Fellow Liberal Democrat councillor Steve Delaney has vowed to never pay the charge "on a point of principle".
He said: "We should be doing as much as possible to encourage recycling and there are real concerns that people will not pay the fine and either fly-tip their garden waste, put it in neighbours' bins or disguise it among their household rubbish."
Aberdeen brown bin charge could bring in nearly £1million a year
Council co-leader Douglas Lumsden stressed that the new levy is "optional".
He said: "It is Councillor Delaney's choice not to pay and I would say that at least he has that choice.
"People in Aberdeenshire do not have access to the service at all so I think we are going a step above in Aberdeen.
"The £30 is optional, but I hope it is an option many people take."
A city council spokeswoman added: "Applications for garden waste permits can be made online only.
"Residents who require support can grant permission to another individual to apply on their behalf.
"People can also use a self-service computer at their local library to apply and dedicated face-to-face appointments can also be made at the customer service centre at Marischal College.
"These appointments can be made by calling 03000 200 292."
She added: "An Aberdeen City Council spokeswoman said: "There was no issue with the website. The 'MyServices' link was available from 8.00 am Monday morning with the first application received at 8.13am.
A second link was made live on the 'Garden Waste' information page at 9.30am.  More than 1,000 successful applications were received by early afternoon on Monday.""