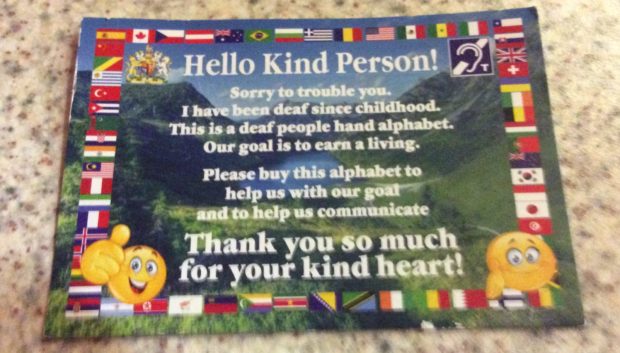 The head of a national charity for deaf people has warned against a potential scam artist targeting well-intentioned people in Aberdeen with a fake fundraiser.
The suspected fraudster was spotted last week at a pub in Culter, where he offered patrons a small sign card showing the sign language alphabet in exchange for cash.
The card stated that the man has been "deaf since childhood" and that purchasing it would "help us with our goal to communicate".
Teri Devine, director of the charity Action on Hearing Loss Scotland (AOHLS), said any legitimate charity worker would be required to have a registered number on any fundraising material.
However, the cards handed out in Culter had no such number, and are believed to be part of a hoax.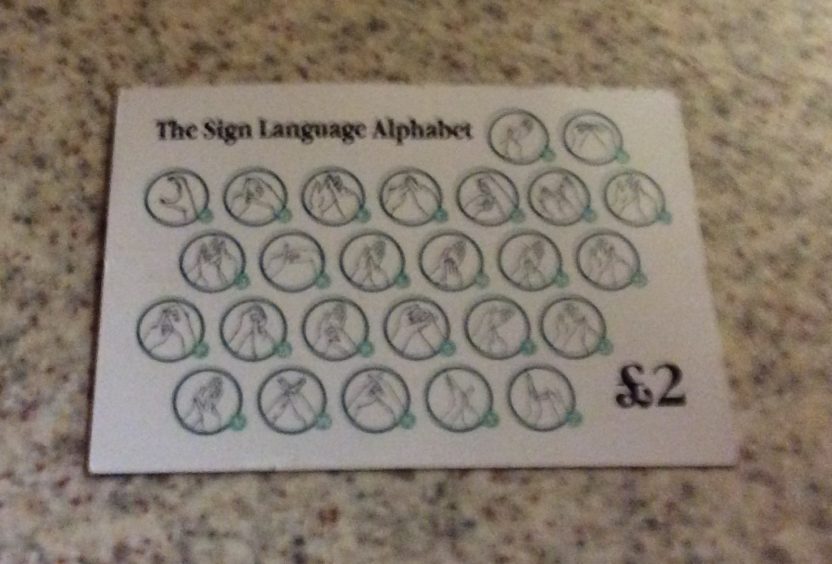 She said: "We are concerned about reports of Aberdeen residents being encouraged to pay £2 for British Sign Language finger-spelling cards, which are free from AOHLS and other charities supporting people who are deaf.
"Charitable causes should have a charity number on their fundraising materials, so that people can check with the named organisation or the Scottish Charity Regulator if there is cause to be suspicious about someone asking for money.
---
>> Keep up to date with the latest news with The P&J newsletter
---
"It is unfortunate that donors need to be on their guard to avoid being scammers' victims, but any individual raising money for a good cause should be open and transparent about who they are, and where any donations are going."
Glen Newlands, who bought one of the cards in the bar, believes he was duped.
He said: "We were just sat talking when this guy came up to us, and just stood there quietly staring at us.
"He gave us the cards and we all paid £2 each for them because we were feeling pretty merry, and I think just too polite to say anything.
"He didn't say a word, he just looked at us without speaking.
"My daughter was quite cross, because she works with sign language and is involved with a lot of charities for deaf people and at the end of the day, these are potential donations for charity."